Autumn and Winter Weddings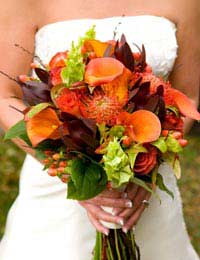 It might be traditional to be a June bride, but marrying in peak time means fighting to secure must-have bookings before hundreds of other brides and grooms. Planning an autumn or winter wedding's a great way of standing out from the crowd - and carries hidden benefits that'll make you glad you waited until summer was over.
Pros and Cons of Autumn/Winter Weddings
The biggest upside to an off-peak wedding has to be the cost. You can shave thousands off hotel and function room bills by booking out of high season, and there's unlikely to be as much competition for your desired venue as the days grow colder. Suppliers including caterers, photographers and transport specialists often offer similar discounts, so be sure to shop around for a good deal.
The same argument applies to guests, who will be delighted to get an invitation to an event that doesn't conflict with their summer holiday or other weddings on the same weekend. And the stunning alternative scenery's a big plus - marrying outdoors as the trees begin to turn their leaves or against a spectacular snow and frost-covered backdrop will add a fantastic edge to your photos.
Of course, you only find turning leaves and snow when the weather gets colder, which can make the idea of a late-season wedding less appealing. If you're still planning to hold an outdoor ceremony, ensure you've organised a contingency venue, preferably nearby, so unpredictable weather conditions don't spoil your plans.
Seasonal Decoration
Colour is all-important as the days get greyer, so avoid pastel shades when you're planning your colour scheme. Traditional autumn hues such as deep red, orange, yellow and copper will look gorgeous in flower arrangements, bridesmaids' outfits or as part of your table decoration, while winter whites are well set off by silver, gold or rich jewel colours like burgundy, dark green or midnight blue.
Summer weddings make the most of sunshine and flowers, so it's a good idea to work with what you've got around you in terms of decoration. If your chosen autumn venues got a lot of trees, ask the co-ordinator when they're likely to be on the turn (although places famed for their foliage often charge more money for the privilege.) Have large arrangements of multi-coloured leaves instead of flowers, scatter them over tables, or even try adding a few to your bouquet.
Snow's an increasingly remote prospect for most of us in winter, but don't ignore your natural surroundings. Hang swags of greenery along aisles and dust tables with white rose petals to imitate the effects of a snowfall. Mistletoe clusters will look great as decorations - and can be hung in strategic areas for an extra splash of romance!
Autumn/Winter Wardrobes
Comfort might not always be compatible with style, but there's no excuse for forcing yourself or your bridesmaids to shiver in flimsy frocks. Go for weighty fabrics including brocade, thick satin or velvet, and add wraps around the shoulders for extra warmth. Fur stoles or shrugs are a cute way to keep cosy in winter, or try a Kate Hudson-inspired full-length fur coat as part of your gown.
Open-toed sandals and thin-soled shoes are simply not practical in colder months - it's far more sensible to wear ballet pumps to avoid slipping, or even boots to keep your feet warm. Accessories can be as sparkly as you like in winter, but too much crystal glitz during the autumn will look a little vulgar.
Eat, Drink and Be Merry
Forget insubstantial finger food during colder months - your guests are going to need their stomachs lining against the chill outside. Plan a robust menu featuring colourful soups, roast vegetables and hot desserts if you're having a sit-down do, and consider a large pot of soup that can be ladled into mugs on a buffet. Large joints of roast meat look great on tables and can be served hot or cold.
Supplement the traditional champagne with a few more warming drink options, such as hot mulled wine or cider. Add a touch of class with whisky-based cocktails, which will heat your guests from the outside in. Don't forget to lay on tea, coffee and hot chocolate for the non-drinkers among the guests.
Throw in a nod to the time of year by including traditional seasonal fare - pumpkin-based dishes will go down a storm in the autumn, while kids will adore old-fashioned toffee apples. And there's no excuse to stint on the turkey and fruit cake if you're marrying close to Christmas.
Finally, weddings are all about tradition - the age-old ceremony of uniting two people in a solemn bond. Just because you're not a summer bride, why ignore seasonal custom? Hold a Halloween wedding in a spooky castle, or find a grotto for your Christmas do, and revel in making festive occasions even more fun than usual.
You might also like...