Beach Weddings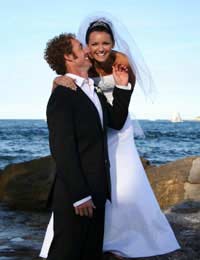 Glorious sun the sound of the sea, golden sand between your toes and the love of your life promising to be yours forever…a beach wedding is the stuff of Hollywood movies. Happily, such romantic ceremonies aren't just available to film stars – and can even be practical for those on a budget. So if you fancy swapping churches, sausage rolls and rain for cocktails and sunshine, here's how to do it in style.
Choosing A Destination
So many different places now offer beach weddings that you'll be spoilt for choice if you go to pick up brochures – and after a while, one stretch of gorgeous golden sand starts to look much like any other. Use these practical tips to help you decide:
The time of year you're getting married may mean some destinations aren't practical. If it's monsoon season in Goa or hurricane season in the Caribbean, give it a miss no matter how cheap the packages are.
Some countries will place greater restrictions on your getting married there than others. Most only require a few days of residency before the wedding date to ensure your marriage is legal, but don't assume this will be the case.
Price will be a contributing factor, but remember that having the ceremony abroad will actually help you save money, as you won't end up paying for a separate honeymoon, so you can afford to push the boat out a little.
The size of your guest list. Check out tour operators' wedding packages to see if they include a certain number of hotel rooms or reduced rates for wedding guests. This will make it easier for your family and friends to afford the trip.
Planning Your Ceremony
The hassle of finding a minister, caterers, florists, photographers and all the other necessary wedding paraphernalia can be eliminated if you opt to book a wedding package with a tour operator. They'll organise everything at the other end for you – all you'll have to do is turn up on the day.
If you're wary of all-inclusive packages, look for wedding planners operating in your country of choice and get in touch with them about finding suppliers that are right for you and your budget. Or if you'd prefer to be a hands-on bride, the wonders of the Internet and email will let you check out the work of cake decorators, florists, photographers and bands worldwide, so you'll have an idea of what to expect before you book.
Unlike churches and hotels, beaches are usually hot, sandy and subject to the whim of the weather, so make sure you factor in provision for the conditions you'll be marrying in. Ensure there'll be shade for the guests to sit under, plenty of refreshment on hand, and individual fans on seats so they can keep cool during the proceedings.
Beachwear For Weddings
There's no two ways about it – a full-skirted satin 'meringue' dress is not practical wear when you're dealing with sand and waves. Make sure the fabric of your dress is light and won't be ruined by a little salt spray, and choose a style that's natural and non-restrictive – corsets and trains will just make you hot and bothered. Ensure veils are firmly anchored so they won't be blown away by the breeze.
Make the most of the exotic choice of flowers that grow in hot destinations by featuring them heavily in your outfit as well as in your decoration. Leis (garlands of flowers) are a traditional Hawaiian decoration and often included in wedding packages, and make a great, non-awkward alternative to a bouquet or buttonhole.
Elaborate hair and make-up also have no place at a beach wedding, as sun and salt air will wreck complex styles all too quickly. Keep things light and natural – use flowers instead of heavy diamante, tone down the eye make-up and aim to look as if you've spent your whole life on the sun-kissed beach you're standing on.
Going Out There
If you want to take your wedding dress, jewellery or even the cake with you on the plane, make sure you know the airline rules on excess baggage and cabin luggage. For example, some countries won't let food across their borders, so your gorgeous cake could end up feeding the sniffer dogs. Always call in advance to make sure you'll be able to take things on board and that they'll be safely stored on the flight.
Make every effort before and when you arrive to ensure your guests will be comfortable during their trip. Send out an itinerary with details of the hotel, transfer arrangements and local facilities once you know who's coming, and stock the hotel rooms with information on local sights and activities so they don't feel they have to sit around and make polite conversation all day.
As you usually need to arrive a few days in advance of the wedding, why not hold your stag and hen nights when you arrive? Scuba diving, fishing or a yacht cruise with your friends can easily be arranged by your tour operator beforehand, and certainly beats drinking too much in the pub with a large L plate on your back.
Going Home
Whether for reasons of cost, timing or personal difficulties, there's always going to be a few people who can't make it to the wedding. Let them know how much you'd have loved them to be there by inviting them to a 'post-wedding' party when you get back.
It doesn't have to be big – serve drinks and canapés and have your wedding photos on prominent display so the absentees can see what went on.
Give your friends a permanent reminder of their big day by handing them wedding favours as they leave. Make sure you pick something they'll associate with the island – Caribbean rum miniature, Cuban cigars, palm-leaf baskets or shells are just a few ways to give them a taste of the paradise you married in.
You might also like...