Bridal Make Up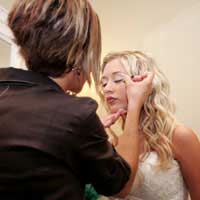 Slapping on a little foundation and some lipstick before you rush off to work every day's all very well but you're going to need more elegant make-up than that if you want your wedding photos to show you at your best. Avoid the traumas of orange foundation, panda eyes and lipsticked teeth by following this advice.
Professional or Self-Applied?
Just as you can never quite replicate the way your hairdresser tames your mane, a professional make-up can transform your features. Self-employed mobile make-up artists will come to your house on the day, and are in plentiful supply around the country, so check the phone book and online for details of those in your area.
Apart from knowing how to apply eyeliner without smudging, make-up artists are often trained in other disciplines, including hairdressing, manicure or massage. Multi-skilled beauty therapists will often offer packages for the big day, including relaxing treatments as well as your hair and make-up. Don't forget to ask about rates for your mother and the bridesmaids – after all, you want the group photos to look great too!
A professional's not going to be practical for all brides – anyone getting married abroad or at a remote location isn't going to be able to rely on outside help. Many make-up artists also offer DIY lessons and product advice, so you can learn how to do it properly at home and test any new items before you travel to your destination.
Choosing a Style and Products
Make sure your maquillage is in keeping with the style of the dress you'll be wearing. Ultra-modern smoky eyes and dramatic lipstick with a traditional white number will make you look like the Bride of Dracula. Don't be too rigid about the colours you want either – it's far better to wear make-up that suits you than a rainbow riot of eyeshadows that don't.
It's also important to remember what time of day and year you're getting married. A harsh overhead sun will show up every defect and make pale brides look washed out, so go for a slightly darker base. Equally, too much bronzer in winter will look out of place in the weaker light. Evening brides will probably have most of their photos in artificial light rather than daylight, so make sure the look works under bulbs.
You're going to have to wear this face all day, so it's worth putting a little thought into the products you'll be using, particularly if you're doing your make-up yourself. A long-lasting lipstick formulation is a must for all the kissing and smiling that'll be going on, as is waterproof mascara in case you cry. Consider airbrush foundation for the ultimate stay-put base, but bear in mind it's best applied by a pro.
Practice Makes Perfect
No make-up artist worth their salt will consider doing a bride's face without at least one trial run beforehand. This should be a good three months in advance of the day, so you've got time to play around with the look. Make sure you wear something the same colour as your wedding dress when you do a dummy run, as different colours, particularly white and cream, will change the appearance of your skin.
The saying 'the camera never lies' is particularly significant on your wedding day. It's important to make up for the camera as well as for the daylight, because film renders colours slightly differently from the naked eye and what looks fine in the mirror may look washed-out in a photo. Some products, such as light-reflecting concealers, also show up oddly once the picture's developed.
When you do your trial run, or try a different product, take Polaroid pictures so you can see how the look will turn out. A slightly darker foundation than your skin tone, black mascara (even if you usually wear brown) and a little extra blusher will all help you get camera-ready.
On the Day Checklist
Prepare for your make-up artist's visit by ensuring you've cleansed and moisturised thoroughly. Wear something zip-up or button-through that won't have to come off over your head later.
Your hair should be done before your make-up, as doing it the other way round will risk you ending up with products in your hair and smudges on your face.
Ensure your make-up doesn't run by using a fixing spray. Professional sprays are available from theatrical suppliers, or use hairspray for a quick fix.
You may want to change out of your dress into something glitzier for an evening reception, so have a dark eyeliner and some stronger-coloured gloss available to vamp up your look.
Don't go anywhere without tissues to effect quick repairs, and have some decent remover wipes to hand for the end of the day.
Finally, don't neglect grooming on the rest of your body. You'll need to tan your skin, clean your ears, paint your toenails and ensure your hands are as neat and tidy as they can possibly be. After all, you don't want to look down at a set of bitten nails as your new husband slips on the ring!
You might also like...