Bridesmaids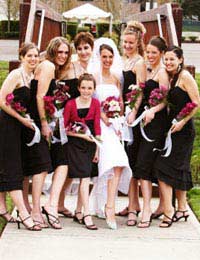 You might think that being a bridesmaid only requires you to wear a tasteless frock and flirt at the reception - but make no mistake there's a lot more to it than that. For starters, if you put in some work with the bride beforehand, you might even end up with a dress you like. And flirting's just one item on a long list of duies you'll have on the big day. Read on to find out how to be the perfect bridesmaid...
Choosing Bridesmaids - For Brides
Traditionally, bridesmaids are young, unmarried women who are related to the bride or groom in some way. The first two of these aren't so important any more, but it's still traditional to ask sisters, cousins or nieces to follow you up the aisle. If the groom has a close female relative, politeness dictates that you should ask her to participate.
The chief bridesmaids, or maid of honour, should be an adult the bride can rely on to help her through the most fraught bits of wedding planning - as well as organise a killer hen night! She'll also be in charge of co-ordinating the other bridesmaids' activities, so pick somebody who's easy to get along with and won't turn the exercise into a power trip.
If you're asked to be a bridesmaid and aren't sure about accepting, bear in mind there are only a few valid reasons for turning down the offer. These include pregnancy, a previous relationship with the groom, or not feeling you have a close enough bond with the bride (although you should treat her asking as evidence she wants to deepen your friendship). If you're minded to refuse because you dislike the groom or the dress, forget it - these are the bride's choices to make, and you should be prepared to put up with them.
Before the Wedding
While the chief bridesmaid and best man should involve themselves in proceedings from the outset, bridesmaids aren't required to throw themselves whole-heartedly into the planning. However, you should make it clear to the bride that you're prepared to support her and perform minor tasks wherever she'd find it helpful - from picking up samples and attending food tastings to taking her shopping for her wedding dress. As the day draws closer, you'll be called on more and more often to go on last-minute errands.
The chief bridesmaid will undoubtedly welcome help with organising the hen night, so put your brains, hands and address books at her disposal. Bridesmaids should do all they can to familiarise themselves with the guest list and act as hostesses during the night, leaving the bride free to enjoy herself to the full.
Everyone wants to look their best at a wedding, and that goes double for the bride and bridesmaids - but organising a full regimen of beauty treatments can be time-consuming. Bridesmaids can lighten the load by splitting the bookings among themselves - one to sort out massage appointments, another manicures, self-tanning etc - with the responsibility of getting the best deal for everyone.
Bridesmaids will be expected to attend rehearsals in the run-up to the wedding. Take notes for any bridesmaids that can't be there, and offer to 'buddy up' with younger attendants so you can help them get into the right place on the day.
Dresses
Ultimately, the decision on the colour and style of the bridesmaids' dresses rests with the bride, and it's vital that you remember this and respect her wishes. Any bride with common sense will consult her attendants before making a choice - but for those who don't, be prepared to grin and bear it no matter how awful the dress.
If you're asked for your feedback on particular dress options, try to be as constructive as possible. Rejecting ten choices as 'horrible' will just annoy the bride - instead, tell her what you find unattractive so she can make more informed selections.In the event that nobody can agree on a single style, there are plenty of ways to compromise. Ask the bride to pick a fabric that all the bridesmaids can have made into dresses that flatter them, or decide on a style and order it in different colours. Shoes, jewellery, bags and make-up are matters best left to the bridesmaids, who'll have different ideas about the height of heel and the colour of eyeshadow they can stand! Get all the bridesmaids together to shop for accessories, both as a bonding exercise and so you can select co-ordinating items. Ideally, you should buy shoes before the dresses are finished, so you can adjust the length to suit your heel.
The question of who's paying for the dresses should be settled before any research is done. Essentially, the more the bridesmaids are expected to pay for, the more say they should have in the style of the outfits. Alternatively, you can offer to pay for your own shoes and accessories - making sure you pick things that you can use again!
On the Day
The bridesmaids should take their dresses, accessories and make-up to the place they'll be getting ready the night before the wedding. The chief bridesmaid should be responsible for checking everyone's got everything, as well as providing an 'emergency kit' for anyone who's forgotten their tights, hairspray or cotton buds.
Once you've travelled to the venue (usually with the bride's mother), you should get into place for the procession. Keep an eye out for younger attendants who may not be sure what they're doing, and be ready to pose for photographs before the bride arrives.
At the reception, you're bound to be the focus of a lot of attention, so use it to your advantage by introducing people to one another. You'll be expected to mingle and make sure everyone's having a good time. Liaise with the chief bridesmaid and bride's mother to sort out any difficulties you spot.
Finally, be on hand to help out when the guests have gone home and the newlyweds have gone on honeymoon. Offer to return hired goods to rental outlets, ensure bills are settled, and be prepared to muck in with the clean-up crew if necessary. And remember - three times a bridesmaid doesn't mean you'll never be a bride, it means you're doing a great job!
You might also like...