Cameras For Guests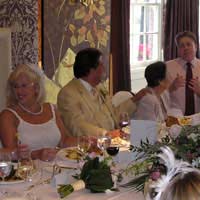 Take a look through any photo album and you'll realise that some of the best pictures are the ones where the subject wasn't expecting to be photographed at that particular moment. These snapshots are imbued with a sense of spontaneity that brings the memory to life in your head – all the more so because they're absolutely impossible to fake.
While you're likely to have a professional photographer and guests clicking away with their own cameras on your wedding day you'll find they only materialise for 'formal' photo opportunities such as the exchanging of vows, outside the church or during the speeches. For moments without a snapper in attendance, deploy your secret weapon – wedding cameras for the guests.
Why Buy Wedding Cameras?
Professional photographers will do their best to capture the most important moments of the big day, but there's a lot they won't be able to cover. For starters, there's just no way they can be everywhere at once, so it's too bad if something funny happens on one side of the room while they're taking pictures on the other.
Most people will make sure they stop to pose if they think their picture's being taken for posterity by your official photographer, which robs you of that fantastic `informal" look. A lot of photography packages also involve the bride and groom buying the photos they think are best after the event – which often aren't the shots of guests sitting at tables. This, of course, means photographers are unlikely to go out of their way to capture the smaller details.
Giving your guests wedding cameras means they can snap whatever's going on around them as soon as it happens. They'll catch the touching moments as some elderly relative reaches for their handkerchief, the cuteness of young flower girls falling asleep under tables and the hilarity that ensues when two male guests compete in a cake-eating contest. And the best part is that when it's all over, you'll have access to every single picture that's been taken during the occasion.
Tips for Best Results
Numerous companies offer disposable cameras decorated in a variety of colours or themes at bulk rates, so there's no need to stint on the number of cameras you buy. The more people you can provide with cameras, the greater the likelihood of you getting some decent shots for your money. Place at least one and preferably two cameras on every table during the wedding dinner.
It's always useful to give the guests a few tips on photography during the reception. If you're indoors or it's dark outside, put signs on tables telling people to switch the flash on, and to make sure they're a good two feet from whatever they're planning to snap. In the evening, have your DJ, band or MC make a 'reminder' announcement.
After the Event
Processing a lot of film can be expensive, so look for a camera company whose price includes processing as well as the cameras. Failing that, a wholesale outlet may be able to develop your films at a decent bulk rate.
Put numbers on the cameras that correspond to the tables at which people were sat, and ask your processing company if they can label the prints accordingly. That way, when guests call asking if you've got a copy of a specific picture, it'll be easier to track down the one they're after.
As well as prints for your album, ask if your processing company can put the pictures on CD. It'll be much easier to print copies of pictures for guests, and also allows you to send snaps by email.
Some companies offer an online service, where you can add all your pictures to a website and then send your friends the address so they can see the full album. You'll be able to add the photographer's pictures as well as the guests' to this, so why not include a URL in your thank you notes?
You might also like...