Choosing a Wedding Dress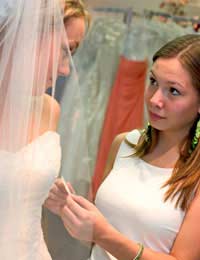 Long short, corseted, chiffon, satin, beading, embroidery, trains…your wedding dress is the one item of clothing that you can really go to town on and have made exactly the way you want it. But so many choices inevitably means a lot of confusion – so how do you start planning your dream dress? Follow these steps to ensure you turn heads on your big day.
Basic Considerations
Most brides start searching for their dress six to twelve months before the big day. It might sound like a lot, but bear in mind that a handmade dress takes three to six months to create –and that's after you've shopped around for the right style.
The main thing that'll limit your choice of dress is how much you can afford to pay for it. Dresses to suit just about any budget exist, from £100 supermarket versions to designer extravaganzas that run into five-figure sums.
When setting your dress budget, build in a sum for alterations, which can be expensive. Make a pact with yourself from the outset that you won't spend more than 110% of your agreed amount – it gives you leeway to overspend on that perfect purchase without letting you go mad.
The dress should be one of the most individual purchases you ever make, so ask yourself some questions before you start looking. What have you always dreamed of wearing on your wedding day? Are you the romantic type or a cutting-edge modern fashionista? And could you really cope with a gigantic skirt all day?
Dress Styles
It might sound obvious, but there is no point falling in love with a gorgeous dress if it does nothing for you once you put it on. Consider your shape, your eyes and hair colour when making a decision about the style. Equally obviously, it should be appropriate for your planned occasion – an off-the-shoulder, low-cut or short-skirted dress may not impress those attending a formal church wedding.
Basic rules should be adhered to. Long, A-line skirts or Empire-line dresses minimise wide hips and prominent tummies, while column dresses will look better on tall, slim frames. Corsets will flatter those with small busts and create a waist on even the most straight-sided, but anyone with a larger bust should avoid them for fear of a comically large cleavage. Ballgown skirts are notoriously difficult to carry off without looking like the dreaded 'meringue', so think carefully before buying.
Colour's an important factor as well. White might be traditional, but its tendency to wash out the pale-skinned and cling to every lump and bump make it an unforgiving colour to wear. Look for dresses with a 'hint' of colour that softens stark white material, or turn to cream or ivory as an alternative.
Of course, there's no rule that says you have to wear white at all. If you can't find a gown in your chosen shade, it's possible to dye dresses to the right colour – but this will only work on natural fabrics. Polyester or nylon dye very badly.
Shopping for a Dress
Do your research – cut photos from magazines and scour the Internet to get an idea of what's available, so you've got a better idea of what you want before you leave the house. Keep a book of cuttings too, which'll come in handy to the dressmaker if you decide to have a bespoke gown made.
The average bride tries on at least 15 dresses before she decides on the right one, so it's highly likely you'll spend most of the day getting changed. Wear easy-to-remove clothes, slip-on shoes and decent underwear to make constant dressing and undressing less of a burden. Try to style your hair into an approximation of the wedding look as well, so you can try on tiaras and veils at shops and ensure a good fit.
Nobody goes to buy a wedding dress on their own. Select your companion carefully – you need somebody who's going to be brutally honest about what does and doesn't suit you, yet who'll make you feel better if you don't find anything.
Fittings
If you choose to have a dress made from scratch, draw up an agreement with the dressmaker beforehand. Include the dates you expect work to be done by, and build in penalties if it's not completed, or you could find yourself without an outfit.
After the initial consultation and pattern choosing, the dressmaker will create a toile, or mock version of the gown, for you to try on. Take your underwear and shoes with you to this fitting so you can get the best possible idea of how the finished article will fit. Now's also the time to change anything you don't like about the design – it'll be a lot harder to do later on.
Whatever look you want to achieve, never lose sight of the fact that this dress is for you – not the dressmaker, shop assistants, your mother, bridesmaids or anybody else giving you advice. So let others argue over the shoes and let your husband pick your underwear – if you feel good wearing the gown, then you'll look great on the big day.
You might also like...