DIY Wedding Bouquets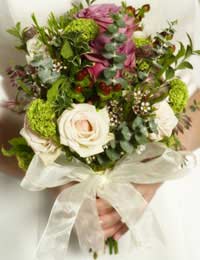 Are you the crafty sort who's always customising your clothes making your own greetings cards and transforming old bits of furniture with a coat of paint? Or have you always wanted to be that type of person, but never had the excuse? Designing your own wedding flowers is a fantastic outlet for your creative talents and will make the finished arrangements that bit more special on the big day - but be warned, it takes time, patience and exceptionally careful planning. Here's a guide to producing bouquets even famous flower-lover Elton John would be proud to display.
Before You Begin
Be very sure you're ready to commit to doing your own bouquets - it will take considerable time right before the big day and involve spending money on more than just the flowers. Many florists get up at 5am on the day of a wedding to prepare fresh bouquets, and if you want your arrangements to look good, you won't be able to begin any earlier than the day before.
Begin by working out how many bouquets, buttonholes and floral displays you'll need and the colour scheme you want to use. Then it's time to gather ideas to work from. Trawl through bridal and floristry magazines, scour the Internet and raid your friends' wedding albums to find styles you like. Bear in mind that if it looks tricky to make, it probably is, so try to settle on something simple.
Consider your choice of flowers carefully. Plants such as roses, carnations and gerberas have large heads, tough stems and will stand up to rougher handling than more delicate blooms, making them a good choice for the inexperienced. Be careful to balance the proportion of your flowers - a large-headed flower will need several smaller-petalled blooms to ensure it doesn't dwarf everything, so bear this in mind when placing your flower order.
Raw Materials
Don't just assume you'll be able to nip out to the florist and buy the flowers you need the day before your wedding. Place an order with a florist or flower supplier, particularly if you want to use any unusual or out-of-season blooms, for the day before your wedding. Make sure you order slightly more than you need in case of loss or damage during assembly.
If you don't want to run the risk of wilting flowers, consider using silk versions instead. Apart from there being no danger of them shedding petals, there's a massive variety of out-of-season blooms available. Silk flowers also have stiffer stems that are much easier to work with, particularly if they're already wired.
Get hold of some buckets that can be filled with water and used to hold the flowers as you make the bouquets. Longer-stemmed flowers will need taller buckets (with sides of at least 18 inches) if they're to remain undamaged - if you can't find any, ask your local florist if you can borrow some.
You'll also need certain pieces of professional kit to ensure the job goes smoothly. A pair of secateurs or decent scissors will be necessary for trimming stems, while a stem stripper will get rid of thorns and excess foliage effectively. Florist's tape is also handy for binding stems together.
If you're making arrangements for tables or to adorn the venue, floral foam will be needed as a base - you can buy this in a variety of pre-cut shapes or simply buy blocks to chop your own.
Assembly
Order in some practice flowers so you can have a trial run before you start mass-producing your flower arrangements. The day before your wedding is not the time to find out that your style won't work with your chosen blooms or is too difficult for you to handle.
An entire wedding party's flowers are a tall order for one person, so enlist some willing volunteers to give you a hand. Organise your gear so everyone's got access to a set of tools and a bucket of flowers each.
When making bouquets, hold the flowers in your hand as you arrange them - that way they won't shift around in the same way as they would in a vase. You'll also get a better idea of what the finished bouquet will look like while you're carrying it, particularly if you consult a mirror at regular intervals.
As a general rule, wedding arrangements are designed to be viewed from all sides. Make sure your work ends up symmetrical - it needs to have equal numbers of flowers on either side and shouldn't bulge or have a concentration of one colour anywhere.
Accessories
Containers will be a vital part of your centrepieces and displays, so select them carefully. Tall arrangements should be roughly one and a half times the height of their holder, while bowls shouldn't be too shallow to hold water. Hold your chosen flowers against possible vessels to see how they match up.
The holder for your bouquet will be almost as important as the flowers. Wrap the stems with ribbon in the colour of your choice, or bind them with fancy wire. Using a large leaf to wrap long-stemmed flowers gives the arrangement a contemporary edge.
As a personal touch, why not consider adding a few non-floral items to your finished bouquet? Crystal-tipped hair sticks, feathers or silk butterflies can be stuck in among the flowers, or you could try trailing strings of crystal beads from the holder.Suppliers who are really sympathetic to your vision are hard to find, so use the fact you've got control over your wedding flowers to try out as many different variations as possible. Have fun with colours, outrageously large arrangements or wild and wonderful accessories to make sure your blooms are one of the day's biggest talking points. Who knows - you might be asked to do your friends' weddings next!
You might also like...