Hiring a Wedding Planner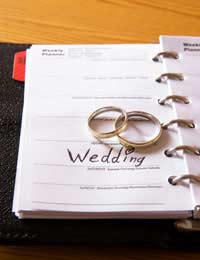 With everything from the dress and honeymoon to the cake and photographer to organise, the average bride spends 250 hours planning the wedding - the equivalent of over six weeks of working life. That's why increasing numbers of people are turning to those for whom wedding preparations are already a full-time job - the wedding planner. Here's a guide to what you can and can't expect from a professional.
Reasons to hire a planner
Obviously, the biggest factor in a wedding planner's favour is the amount of time they'll save you. If you lead a busy life or are planning on a short engagement, having somebody on the job 24/7 is an excellent way of ensuring everything's done in time.
Experienced planners will have built up contacts across different sectors of the wedding industry, which affords you multiple benefits. You won't waste time flicking through the phone book for a decent supplier, you'll get exactly what you're looking for and you'll probably obtain it at a discount, too.
Even if you'd prefer to do the organisation yourself, you may want a wedding co-ordinator - somebody working behind the scenes to make sure everything runs smoothly during the ceremony. Consider this option if you're looking for peace of mind on the biggest day of your life.
Choosing your planner
Because a wedding is a highly personal affair, it's vital to have somebody who's sympathetic to your needs. Book a consultation with a planner to discuss your wants, and use this time to work out whether they understand where you're coming from.
The availability of online courses makes it easy for anyone to set themselves up in business as a wedding planner. Find out about the planner's experience rather than trusting any qualifications put in front of you - ask how many weddings they've done, what their procedure is on the day of the wedding, and whether they've got testimonials from previous couples that you can look at.
Services
Depending on how much work you want to do yourself, planners offer everything from a full step-by-step service to a few hours tying up loose ends before the day. Co-ordination (see above) is offered by most planners as well, so you can ensure your actual wedding's as well-run as the preparations.
On average, it costs a staggering £16,000 to stage a wedding - but a wedding planner will be able to help you set a realistic budget. They'll also endeavour to make sure you don't go over what you can afford and stop you making 'impulse buys'.
It's also possible to hire a planner to help with just a couple of aspects of your wedding, such as finding the right venue or suppliers for that tricky-to-find must-have. Planners will come up with a list of goods based on your personal requirements and budget, negotiate with the supplier for you and ensure the invoice is paid on time.
Your input
Basic facts will be very important to the planner when considering the parameters, so be ready to tell them what type of ceremony you're having (church, registry office, a civil partnership or a vow renewal), the location and how many people will be coming so they can get an idea of what they're dealing with straight off.
They might be good at what they do, but planners are not mind-readers, so it is vital you have some idea of what you want before you go to see them. Take photographs, magazine articles, fabric swatches or anything that will help your planner get a better idea of what you're after. If your thoughts are a bit vague, it doesn't matter, but do try to have some sort of response prepared to the inevitable question 'So what did you have in mind?'
During the run-up to your wedding, a planner is effectively working for you - which means you need to be ready to back them up. Pay bills by the due date, ignore suppliers who may try to ring you direct in the hope of getting a better deal, and make sure everybody co-operates with your co-ordinator on the day of the wedding.
Payment
Planners take payment for their services in a variety of different ways - either as a percentage of the total wedding budget, an hourly rate or a flat fee. If you want a full service, a percentage deal is probably your best bet as it's a fairer reflection of the effort put in depending on the size of the wedding.
Be wary of wedding planners who make their money by receiving commission or referrals from suppliers. They're more likely to stick to the people they know will pay them rather than go searching for the perfect goods and services for your wedding. Do make sure you ask whether this is the case at your initial consultation - a reputable planner will know why you're asking and won't be offended.
You might still be thinking 'aren't planners for the rich and well-connected?' The answer, quite simply, is no - they're a way of getting expert advice on an important event. You'd never buy a house without consulting an estate agent, so why should this be any different?
You might also like...