The Perfect Wedding Outfit For Guests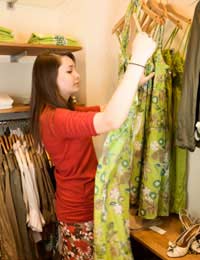 No matter how many hours the bride and bridesmaids spend agonising over their dresses chances are it won't be as many as the guests will spend shopping for their own ensembles. The reason for this is that the bridal party have precise rules governing what they can and can't wear, but guests have to walk a much finer line when picking out something suitable. Here's an attempt to clarify the grey areas and help you through the social and sartorial minefield of wedding clothing...
Identify the Setting
From beaches to barns and battlements, people get married in a huge variety of places, and what works for one setting won't necessarily be appropriate for another. As soon as you receive the invitation, start picking up on the details that'll tell you how to dress.
Look at the time of day first on the invitation. A morning wedding will require different clothing from one that takes place in the evening, so amend your choice of colour, style and accessories accordingly. Men may want to wear morning dress to a formal church wedding if it takes place before 3pm.
Location is everything when you're choosing your outfit. If you're attending a church service, women should ensure their shoulders and knees are adequately covered. (If you're going on a reception afterwards, opt for a jacket or wrap you can put over your dress for modesty's sake, then remove when the dancing starts.) Conversely, beach weddings need loose, comfortable clothing that won't become clingy in the heat or get whipped around by a breeze.
Whatever the setting, make sure your footwear is suitable for the terrain. Don't wear anything that has too pointy a toe or excessively high heels, as these will rapidly become uncomfortable as the day wears on.
Finally, don't forget your outfit will need to be suitable for a variety of different activities - the service itself, dining, standing around for photographs, and dancing later in the day. A good way to get around this is to compose an outfit with several layers - a jacket for the more formal events, then a jumper or cardigan underneath if the weather's cold before your final layer.
Ground Rules - Women
Suits are probably the most conventional choice of wedding attire, but need to be chosen carefully so you don't look like you're coming straight from the office. Avoid sober 'work' colours like grey, beige or navy, and make sure the cut is nicely fitted, but they're still not an ideal choice for your typical wedding. Outfits in black that aren't cocktail wear or dinner jackets make you look funereal (and worse, devoid of imagination).
White tends to put people in mind of the bride, particularly in a formal dress. Opt for cream or beige instead, preferably in a non-formal fabric like broderie anglaise, or try a print with a white background. In praigure. Team a plain suit with killer accessories including embellished shoes, jewellery and a great patterned top for when you want to remove the jacket. Dresses shouldn't reveal too much cleavage or leg - you're going to a wedding, not out clubbing. Avoid fabrics that are too flimsy or sheer, as strong light or a stiff breeze will ensure you stand out for all the wrong reasons in the photographs.
Hats are still de rigueur at formal weddings, but if you're not a 'hat person', you can try a decorated headpiece or an elaborate hair accessory instead. As with any accessory, don't buy your hat before you've purchased the rest of your outfit.
Ground Rules - Men
Men have fewer choices than women when it comes to wedding attire, so make sure that you follow the dictates of the invitation. If it specifically states 'morning dress' or 'black tie', then you'll feel an idiot if you don't turn up in just that.Plain, sober colours are the best choice for wedding suits - grey, charcoal or navy for winter, beige, light grey or cream in summer. Avoid pinstripes, which remind people of the office. It's also wise to make sure your fabric doesn't crush too easily - for example, a linen suit is likely to be creased by a lot of sitting down, but a linen blend will stand up to such treatment far better.
Shirts should also be plain, neutral colours, but you can go to town when you're choosing accessories. Pick out ties, cummerbunds, waistcoats, cufflinks or even handkerchiefs to add a personal touch to your outfit. If you're wearing more than one, make sure the accessories co-ordinate with one another so the overall look is pulled together.
Things You Should Never Wear
Top of the no-go list for wedding guests is anything that clings to the body. You're not here to draw attention to yourself, so leave the tight skirts at home and go for something fitted to show off the lines of your figure instead.
The rules on black and white clothing have softened over time, but it's best to steer clear anyway. Black's more appropriate to funerals than weddings, so avoid it unless you're attending a black tie do.
White should be regarded as the prerogative of the bride. For those who fancy a lighter-coloured outfit to ward off summer heat, cream, ivory or beige are acceptable choices. Look for looser cuts and informal fabrics like broderie anglaise, so you don't appear to be competing with the bride. In practical terms, however, these colours are a disastrous choice - weddings are a hotbed of spilled food and drink and you'll find it very tough to get stains out of such light-coloured clothing.
Even if the wedding's a black tie event, stay away from floor-length gowns, which are the bride and bridesmaids' privilege on the day. Anyway, why would you want to wear something that'll get in the way when you're dancing?
You might also like...