Establishing a Budget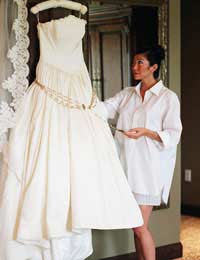 The cost of the average UK wedding's difficult to pin down but one thing's for certain – it's going up every year. With an annual rise of around 8 per cent, you can expect your dream day to set whoever's paying back at least £20,000 – or, to put it another way, nearly all of the average person's annual salary (£23,600).
Not only are prices going up, there's no guarantee your first wedding will be your only one. It's traditional for the bride's father to pay for the wedding, but as more people than ever get divorced and remarried, they're finding the costs coming out of their own pocket.
Clearly, knowing how much you can afford to pay and sticking to it's the only way you'll get through your wedding without selling everything you own. But where do you start with so much to plan? Read on for cash-savvy success…
Setting the Budget
It should be obvious, but don't budget for an amount that is any more than you can afford. Your dream wedding will turn into a nightmare if the costs spiral out of control, so be realistic from the outset.
Do your research before sitting down to plan out your spending totals. Order brochures, make phone or online enquiries about the cost of specific services, check whether prices include VAT, and decide on your guest list so you know exactly how many you'll be ordering for. Guessing now will mean shortfalls later.
Be as specific as you can when allocating sums of money to different items. For example, don't just budget for the 'reception'; allocate separate amounts to venue hire, food, alcohol, entertainment, decoration, wedding favours and catering staff. That way you'll know how the expense is being shared out and shift money between different budgets if necessary.
Online planners can make light work of budgeting, with pre-programmed categories for you to add your specified amounts for different services. They'll even do the adding up if your maths is a little shaky!
However large your overall total, build in a contingency amount (around 10 per cent is recommended) to cover any costs you haven't foreseen. As long as you're prepared, such extras won't come as a shock.
Tips for Saving Money
Whoever's responsible for the bill, it's a good idea to open a separate bank account for all wedding monies, and pay a set amount into it each month by standing order. This will let you begin paying for your wedding months before you start planning.
Flashy hotels and expensive bars are all very well, but it's just as easy to turn your church hall or community centre into a festive space with some decent lighting and flowers. Look into renting your local buildings – you'll end up with more control over the decoration and it'll be far cheaper.
Can't afford a sit-down meal? Opt for a buffet, which will save you the cost of serving staff. Make your wedding cake a part of the main meal, instead of an optional extra, by serving slices as dessert – try going for a profiterole tower or a gooey chocolate gateau.
Setting your heart on exotic flowers in December's a surefire way to break the bank. Ask you florist for suggestions of flowers that are in season, as they'll be more readily available and thus cheaper to use.
Finally, don't be afraid to ask people you know if they'll provide their services for a reduced rate. Friends and family will know your financial situation and are probably dying to show off their skills in flower arranging, cake decorating or Djing. There's nobody that doesn't love a wedding – so get on the phone and ask away!
You might also like...