Organising Your Wedding Gift List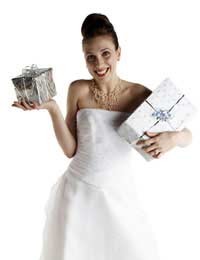 Can't face the thought of unwrapping fifty toasters and twenty sets of wine glasses? Would you like a few luxuries to begin married life? Unsure what to tell people when they ask what you want as a wedding present?
Ensure none of these dilemmas crop up by taking the time to organise a gift list. Unlike birthdays and Christmas where givers feel the need to surprise the recipient, your wedding is a time when it's totally acceptable to ask for the gifts you want and expect people to buy them. Make sure you don't waste the opportunity with these tips for creating a list you and your guests will love.
What to Ask For
Traditionally, couples asked for items that would help them set up home together for the first time. However, with people marrying later, the increase in co-habiting before marriage and remarriage becoming more common, the bride and groom often already own all the white goods, cutlery and dishtowels they'll ever need.
If you're in this situation, consider asking for more luxurious household items - things you've always wanted to buy but have never been able to afford. Now's the time to ask for a full set of elegant china for dinner parties, great kitchen gadgets, a new stereo or a better TV.
Feel free to use your wedding list as a way of indulging your personal passions. If you're wine or art lovers, compile a list of must-haves to bolster your collections. Or ask guests to sign you up for a course of lessons in anything from cookery to archery.Those stuck for ideas should consider asking for vouchers. Whether they're gift tokens for your favourite department store or holiday vouchers that can go toward your honeymoon, you'll be able to select what you want as soon as you work out what it is you're after. You can even go for the unselfish option of asking for donations to your favourite charity.
A word of warning - while asking for charity donations or vouchers is a perfectly valid idea; older guests may feel slighted if they can't buy you a tangible wedding gift. If you're planning on going down this route, think of a few goods you'd like as alternatives.
How to Organise Your List
Start thinking about your gift list at least three months prior to the wedding. This gives you time to think carefully about what you want to include, and allows people plenty of time to shop for presents, place items on order and have them delivered to you if need be. Don't attempt to organise the entire list in a single session - take two or three stabs at it so you can include items you've thought of in between times.
Try to include items at a range of prices to suit the pocket of every guest. While those on a budget will appreciate being able to buy cheap things, some of your friends may club together to buy a bigger item instead of several smaller ones. Close relatives will also want to splash out for the occasion, so there's no need to avoid including expensive items.
Informing your guests of the list can be done by sending out notes with the invitations to say where it can be found. This might seem a little presumptuous, but does avoid the scenario of endless phone calls and emails asking what you'd like as a present.
Where to 'Have' Your List
Most big department stores and high street retail chains offer a wedding list facility, allowing you to put together a list of desired items from their stock. The advantage of this is that the store will manage the list for you, notifying you when items have been purchased and ensuring no duplicate buys are made.
Alternatively, try putting your list together using an online facility and sending guests the link to the site. This allows you access to hundreds of online stores as well as standard ones, meaning a much greater range of presents available. As well as giving you notification of which presents have been purchased, you will be able to list links to specific items, which makes the shopping process much easier for guests.
Feeling Guilty?
Receiving so many presents at once - many of them expensive - can make even the most self-centred of brides and grooms feel a little bit embarrassed to be receiving so much. However, there's really no need to feel bad at all. Imagine how you'd react if your friend or relative announced they were getting married. Would you want to take them a present? Of course you would! All your guests are doing is reacting in the same way.
The idea of compiling a list, making it seem as though you're expecting presents, is one that bothers a lot of people. Combat this feeling by remembering that you're not instilling an urge to buy presents in people - as mentioned above, if they're close to you, that urge will already be in place. All you're doing is making sure they'll get you something that you will be able to thank them for sincerely and appreciate for years to come.
Finally, never lose sight of the fact that a wedding's a celebratory event, just like a birthday or Christmas. If you didn't receive presents on those days, you'd wonder what you'd done to offend your nearest and dearest! Remember the day's all about you and start opening those catalogues to choose your perfect gift list.
You might also like...