Guest Lists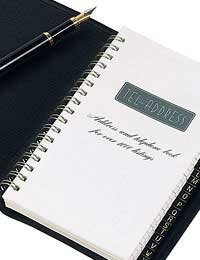 Putting together your invitation list's one of the trickiest parts of planning the wedding. On the one hand you can't book suppliers, organise supplies or search for venues until you've got an idea of numbers - but on the other, you're desperate to put off the inevitable arguments over inviting friends, relations, children and dogs to the bash. Take a deep breath, pick up your pen and pad and follow these tips as you write down the names...
Practical Considerations
Obviously, the style of wedding you plan to have will partially dictate the number of guests you invite. If you don't want a big fuss, then you're faced with the task of deciding who merits an invitation to a wedding that's billed as 'close friends and family only'. If you're planning an extravagant blow-out with guests galore, try not to get carried away and add everybody who pops into your head - it'll start to get very expensive.
Your budget considerations also need to be taken into account - not necessarily the overall size, but how you plan to spend it. If you're happy enough with a church hall, a buffet and a mobile DJ, then you'll probably have enough cash to cater for 100 guests. However, an expensive venue, caterers that charge by the head and individual party favours for everyone and you're looking at a very different spending ratio. If your parents are footing the bill for the wedding, a chat with them about numbers will be helpful to stop costs spiralling out of control.
Ideally, you wouldn't book your venue before getting RSVPs, but wedding planning doesn't allow for such luxuries! If you've set your heart on a specific venue, check how many people it can hold before you start making out your guest list. It won't do at all to invite 250 people and then realise you've only got room for half of them.
Who to Invite - and Who to Leave Out
The bulk of the guests will, of course, be chosen by you and your other half. Set aside an afternoon - yes, it really will take that long! - to sit down and discuss your list. Begin with the obvious invitees, who will include your parents, siblings and their partners, and members of the bridal party, then move on to your mutual friends.
Rather than having long rows over specific individuals, try making things less personal by breaking guests down into groups such as children, ex boyfriends/girlfriends, work colleagues, single people's plus-ones etc. You'll soon get an idea of whether your budget and your own nerves can stand inviting certain groups or not.
It's traditional to give both sets of parents a certain portion of the invitations to allocate as they please. If you're paying for the wedding yourselves, you may not feel like doing this, but it's still a nice gesture to show you want them to enjoy the day as much as you will.
Be as ruthless as you can when creating the final list. Distant relatives you haven't seen in years will understand if they're not invited, so don't feel you have to just because they're family. If one of you has an objection to a person the other wants to invite, the only fair thing is to leave them out entirely to ensure neither of you resents their being there.
'Why Didn't You Invite Me?'
This is where things get really tricky - the invitations have been sent out, and various acquaintances have learned they aren't included. How do you explain your decision to leave them out?
Try not to be flustered if somebody asks you directly why they haven't been included. If you can say honestly that it's because you're on a limited budget, then do so, while emphasising that you'd love them to have come if money allowed it. Don't use this excuse if it isn't true, though - the last thing you want is for them to overhear you discussing your wildly expensive venue/dress/caterers and feel snubbed.
Family obligations are also a good way of excusing yourself to friends. If you or your partner have a really large number of relatives, you can say that things were getting stretched by the time you'd catered for all of them and it really wouldn't have done to leave certain members off while inviting others.
Perhaps the trickiest one to get out of is the situation where you've planned a small, intimate ceremony for 'close friends and family', and friends who believe they're close enough to have been invited haven't been. In this case, a combination of the above is probably a good idea, coupled with something about the size of the venue prohibiting any more than a certain number of guests.
Couples going abroad to marry often plan a bigger celebration for all those who couldn't attend when they return home. If you're forced to limit your original guest list, why not consider a post-wedding party for your uninvited friends and any absentees, featuring wedding cake, the photo album and plenty of gossip from the event? Then if anyone asks why they haven't got an invitation, you can finish your excuse by inviting them to that and watch them smile as they accept!
You might also like...