Wedding Invitations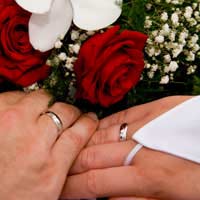 Choosing your wedding invitations can sometimes make you feel like you are wading through a minefield. Although it should be an enjoyable experience - it's not often an easy one. There are so many different types and styles of invitation that it can feel like a real chore trying to figure out what you're going to go for.
The invitations that you choose out to send will be the first thing that your invited guests will see - and the first indication of what kind of a wedding it is going to be - formal, informal, a small intimate gathering on a far flung beach or an all out family bash.
The History
Wedding invitations date back to hundreds of years ago, long before the internet and printing were invented, but back then they were issued in a rather different way. Because the majority of townspeople were illiterate, there was little point in sending out written invites, so local nuptials were announced by a local Town Crier who would invite anyone within earshot to the big day.
But the rich still wanted to have a little bit 'extra' added to the occasion, so they began to use coats of arms and family crests to decorate hand written invitations. Really well-off people would employ monks whom they would pay handsomely to hand-draw and illustrate wedding invitations which would then be sent to the guests directly via a horse messenger.
Luckily, things have changed a bit since then. There is so much choice now that couples can now make sure that the invitations they send out give exactly the right impression - you can even send out your invitations via email if you're having a small and informal gathering. But lots of choice does mean that a lot more care and effort has to go into choosing them to make sure that you have ended up with the right invites.
Hand Written
As you can probably guess from the name, this type of invitation is hand-written, usually by someone with nice handwriting, or in a special style of pen, or even in a particular writing style such as calligraphy or copper plate. These are considered fine for smaller, more informal gatherings, but are not really considered appropriate for highly formal occasions.
Engraved
For engraved invitations, the wording of the invitation is copied and carved into the copper plate. The plate is put in the press, inked and then printed from the plate. This leaves the letters with a raised appearance on the paper and this is why they are called engraved. These invites can be prohibitively expensive, and as such are better suited to formal weddings where budgets tend to be more accommodating.
Traditional
Traditional wedding invites are often printed on white or ivory paper, and have simple but attractive details and lettering. These are perfect for those on a tight budget, with access to a printer - as they can be made with relative ease at home, or by a friend.
Contemporary
Contemporary wedding invites have had a huge rise in popularity over the last couple of years, mostly because they can usually be personalised so much more than other types of invitation. Pictures and colourful designs can be used to decorate them along with colourful lettering.
In recent years, many wedding photographers have started to offer an extra add on option to their wedding packages that includes a pre-wedding photo shoot, set in a location that the bridge and groom are comfortable in - maybe a beach, park or studio, depending on the formality of the. The couple then sees the photographs and chooses their favourite ones to be turned into invitations and thank you cards to be sent out after the wedding has taken place.
Hand Made
Another type of invite gaining popularity is the home-made variety. For the more creative couple, these can be a great way to get hands-on involvement with the wedding preparations and can give a really personal touch that cannot be achieved from professionally made invites. Those good with computers and imaging applications such as Photoshop have a whole host of options available to them when planning and making their invites that will make sure that their invitations really are unique.
Themed
If your wedding has a theme, your invites can play a big role in it. Be it simply the colours you choose to decorate the invitations, or the fabrics or designs that feature on them, perfectly planned and themed invites will set the scene for the wedding to follow.
Strike the right note
The invites that you choose will set the first impressions that your guests have of your big day. What's good for one wedding won't be good for another so if you have any doubts at all, take your time, listen to your instincts, and ask advice from your friends or family to help you with the decision.
You might also like...