Money Saving Strategies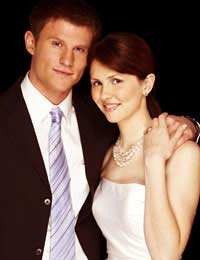 Any idea where you're going to get the £20000 you'll need to pay for a wedding? If not, you'll need to think about ways of saving money on the big day. From flowers to food and entertainment, there's a tip to ensure that cutting costs doesn't mean skimping on style – and could even help other couples benefit from your thriftiness.
Begin by working out exactly how much you can afford to pay for the wedding, then start getting quotes to split that amount down into separate sums for the venue, attire, food etc. Don't forget that ten per cent of every budget should be classed as 'contingency' money, which will cover any unforeseen expenses. Then it's time to knuckle down and start searching for the best deal!
Venue
Be aware of the costs involved in getting married. Churches will require a fee for publishing banns, a priest's fee, and money for extras like organists or choirs. Registry offices need money to register the wedding and a registrar's fee. If you're already a regular church-goer, have a chat with your priest to see whether costs can be reduced for you as a member of the congregation.
If you're marrying in church, it's worth asking if they have a church hall attached to their parish where you could hold the reception. Consider also local village halls, social clubs or function rooms in public buildings.
It's worth thinking outside the box for venues. Do you have any relatives with a large house or garden for the reception? Could local landowners or farmers be persuaded to lend out a field for a marquee? You can only ask and find out!
Guest list
This is going to be one of the major casualties if you're trying to cut costs. Don't be worried about insulting people by leaving them off your invitation list - anyone who knows you well will realise that your lack of funds is what's forcing you to hold back, rather than any desire to keep them away from your big day.
Ceremony
Cut back on the cost of clothing by having fewer attendants. Having four bridesmaids, four groomsmen and two flower girls is only a good idea if you can afford it. If you're worried about offending people by leaving them out, simply dispense with attendants and walk down the aisle with just your dad for company.
If you want a singer or musician for the ceremony, hiring a professional is likely to be expensive. Ask your friends and family for any contacts they have, or try advertising in local colleges for students who'll be happy to help you out for a reduced rate. Reduce costs even further by simply playing your favourite piece of music on CD.
Dress
Frankly, there's little point in spending thousands of pounds on a dress you're only likely to wear once. Check out Internet auction sites or specialist websites for second-hand wedding gowns at a fraction of the price they cost new. Hiring a gown's far cheaper than buying one, so look around for rental shops in your area. If you're not after a formal wedding gown, see what the big department stores have in the way of eveningwear.
Try to find a gown that matches a pair of shoes you already own, which will save you splashing out on a brand new pair of heels. They'll be a lot more comfortable if you've worn them already! The same goes for jewellery, hair accessories and extras like bags or underwear.
Ask bridesmaids if they'd be willing to chip in for the cost of their outfits, then take them shopping to see if there's any off the peg dresses that'll suit them all. Groomsmen need only buy co-ordinating shirts and ties to match existing suits.
Flowers
If more than one couple is getting married in your venue on the same day, ask whether they'd be prepared to split the cost of the flowers. They'll probably welcome the reduction in their own budget!
Make sure you ask your florist what's in season on the day you're marrying, as it'll be cheaper than anything that's being specially grown. Give the bridesmaids single flowers to hold instead of bouquets – a lone rose or a long-stemmed flower like gladioli looks very effective.
Food
A three-course, sit-down meal will take up an enormous proportion of your budget, especially if you plan to have canapés and petits fours as well. Consider having a buffet with finger food and main dishes on hotplates, which will allow guests to help themselves. Make use of the cake by serving it as dessert, and add fruit or ice-cream to the buffet as accompaniments.
Most couples would love to be able to give their guests free alcohol, but it's hugely expensive to do so. There are two solutions to this – either offer a pay bar (perhaps with the first drink free), or find a venue with a 'bring your own' policy. Then nip across on the ferry for a 'booze cruise' and bring back plenty of cheap drink for your guests! Bear in mind the venue may charge a corkage fee.
Entertainment
Decent bands cost money, so unless you know someone who'll do you a good deal, consider hiring a DJ for the reception. They'll be able to play for longer and will certainly be cheaper than live musicians.
In the age of MP3 players, it's easy to be your own DJ by creating playlists on your own players, then renting equipment to play them through the venue's speakers. Keep a teenage relative out of mischief by asking them to look after the devices.
Honeymoon
So many people nowadays live together before they're married that the idea of buying homeware as wedding presents is a bit outdated. Why not ask your guests to purchase holiday vouchers that you can exchange for a trip abroad instead? You'll be able to thank them effectively and let them see what they've paid for by sending pictures from your honeymoon in your thank-you letters.
You might also like...