Wedding Rehearsals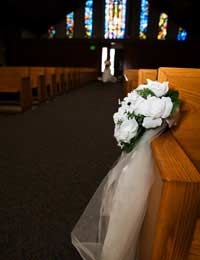 There's a lot more to holding a wedding rehearsal than just knowing where everyone's going to stand during the vows. A well-planned trial run will help you to make sure the big day goes swimmingly long after the ceremony's over and done with. Here's some top tips for making the most of your rehearsal.
Why Hold a Rehearsal?
Like any public event with an audience a wedding requires a little stage management to ensure everyone knows what they're supposed to be doing and when. Holding a rehearsal will let you deal with all the niggly details you've not thought of before – whether your chosen music will last long enough for you to walk up the aisle, if there's space for everybody in front of the altar, what to do with your bouquet during the ring exchange and so on.
As weddings often bring together a number of people who've never set eyes on one another before, a rehearsal also allows your friends and family to meet before the big day. Giving everyone time to get acquainted is also why many couples choose to hold an informal dinner for the wedding party after the rehearsal.
It's a good idea to get anyone who's got a role to play at the ceremony, such as readers, musicians etc, involved at the rehearsal so they know when they'll be performing. Having said that, there's usually little reason to have your officiant overseeing the rehearsal – they've been through plenty of weddings before and will know exactly what they're doing. An assistant will be on hand to guide you through the process.
When to do it
People will go out of their way to be available on your wedding day, but getting everyone together for a run-through is trickier. Pick a quiet weekday evening, when more people are likely to be free. If you're getting married on a Saturday, remember it's a popular day and the Friday night is likely to be busy.
Aim to hold the rehearsal between one and three days before your wedding. Confirm your wedding co-ordinator is able to supervise proceedings on your chosen day before you start ringing your bridal party – you'll look pretty stupid trying to organise things without them.
What You Should do – and What's not Necessary
Do get the clothes right. Formal bridal clothing's not exactly everyday wear, so use the rehearsal to practise walking in long skirts and high heels. Brides whose gown includes a train should try a mock one to get the feel of it.
Don't feel you have to go through every word of every reading, vow or linking passage – the official will be experienced enough to guide you if you get stuck. If you're writing your own vows, practise them in secret so they're fresh to everyone's ears on the day.
Do use props to help you simulate events wherever possible. It's helpful to carry makeshift 'bouquets', which can be passed between members of the bridal party as they will be on the day, as well as fake rings, pillows for ring-bearers and baskets with confetti or petals for flower girls.
Don't just run through things once and have done with it. Do the necessary sections at least twice to make sure everyone's confident about what they're doing, and if somebody asks for another run-through, agree without hesitation. Practice will allow you to do things almost automatically on the day – leaving more time to enjoy the admiring looks you're getting on your way down the aisle.
You might also like...