Seating Plans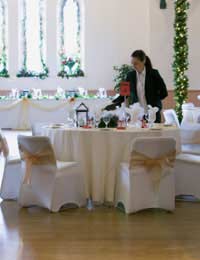 Quadratic equations? The theory of relativity? Creating a perfect soufflé? None of these things are half as complicated as putting together a seating plan where everybody at every table is happy with their position. Here's how to avoid punch-ups and frosty silences in the middle of the celebrations.
Room Layout
The right shape of table can make all the difference when you're trying to sort out a seating plan that's conducive to chat. A number of smaller round tables where everyone at one table can see each other, are generally better than a few long ones where you're restricted to talking to the people closest to you. However, guests usually like to be able to see the bridal party when the time for speeches arrives, so the top table should still be a long one for maximum visibility!
Top Table Tradition
At a traditional top table, the bride and groom sit in the middle, flanked by the bride's parents and then the groom's parents (with members of the opposite sex sitting next to one another). The chief bridesmaid and best man go at the ends of the table.Of course, a traditional top table's not going to suit everyone, particularly if your parents are divorced and have new partners. The usual way to solve this is by adding extra chairs to the ends of the table and seating the 'step' parents in these - again, alternating the sexes as you go.
Family, Friends - and Strangers
Convention dictates your closest family and friends who aren't part of the bridal party should be placed as close to the top table as possible, with lesser-known guests further away from the action. Having said that, it's often useful to mix up the people who know you and each other well with those who don't really know anyone. That way, there won't be a table full of strangers trying to make small talk while all the people who already know one another have a good time around them.
You can make your task easier by dividing people into general groups - bride's family, groom's family, work friends, schoolfriends etc - then adding one or two from each group to different tables. The exception to this 'mixing' rule is children, who'll usually have a better time sat together than if they're forced to behave at adult tables.
Working out the Plan
Don't make the mistake of leaving the plan to the last minute just because it's something you can do alone. You'll need plenty of time to go through your lists, allocate seats and check you haven't missed anyone out - forcing forgotten guests into hastily-placed seats can spark confusion and ill-feeling.
Certain things need to be in place before you can begin planning the seating. Your guests should obviously have RSVPd so you know how many you're catering for, and the table arrangement should have been organised with the venue.
Do your best to seat people at the top table, with men and women alternating between seats. It's traditional, promotes general conversation rather than girly chats or blokey banter and provides the perfect opportunity for the singletons to flirt. In fact, many weddings have a 'singles' table set up expressly for this purpose, so if you've got a lot of single friends, now's the perfect time to give them a helping hand.
Use your family and close friends to get information on the people you don't know so well - their work colleagues, relations of their partners and so on. Are there any long-running feuds between guests? Do any of them have aversions to particular groups, like children or very boisterous types? Once you've built up a clearer picture, you'll be able to make much more informed decisions when allocating chairs.
Assigned Seating or Not?
If you're at all concerned about your guests being irritated by a seating plan, think again. At big, formal events, most people prefer to be told where to sit, rather than having to scramble for a table - or worse, being the outcasts who don't know anyone and have to sit alone. For a slightly more informal approach, you can assign people to tables rather than specific seats, allowing them to choose their own chair and neighbours at table.
On the Day
Make sure you've provided accurate information for the guests so they can find their seats with a minimum of fuss. A seating chart outside the dinner venue will give them a clue about which direction to head in and allow them to find their companions before going to their seats. You'll also need visible numbers for each table and name cards to set at individual places.If your venue makes it impossible for all the guests to see the top table while seated, consider having your speech-givers move to a better vantage point. You don't want people muttering afterwards about how slighted they feel that they couldn't see X making their speech.
Finally, remember that a seating plan isn't a magic wand - it won't immediately make people enter into warm-hearted group discussions as if they've known each other all their lives. All you can do is ensure you've put plenty of thought into things beforehand - the atmosphere's up to your guests!
You might also like...