Thank You Notes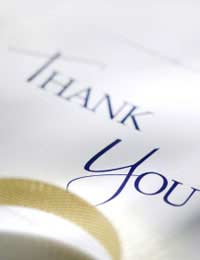 When you receive a present it's only polite to write the giver a thank-you letter afterwards – and weddings are no exception. Guests don't expect to be rewarded for the fact they've made the (often long) trip to your venue, paid for hotel rooms or spent hours sitting through dull speeches, which is all the more reason to acknowledge they've done these things so they could see you get married.
However, a stiff 'thank you for attending' won't warm the cockles of anyone's heart, and a chatty, personalised letter's difficult to compose if you've had a lot of guests. Here are some tips on what to include in your letters of appreciation – although there's no rule that says they have to be letters…
When to Send
Be prepared to send out thank-you notes a week or so after you return from honeymoon. Everyone will be aware you're away after the wedding, so they won't expect an instantaneous response. Try not to leave the sending any later than a month after the wedding – or six weeks if you're having a long honeymoon.
Make sure you've prepared in advance as well. When you order your invitations, consider buying personalised thank-you cards, which will go down better than bog-standard stationery. Keep copies of guest lists on file so addresses can be easily retrieved, and check you've got enough ink in your printer cartridges.
Wording
Letters don't need to be long, but they do need to make the guest feel they're not just one recipient of a dutiful circular. If you had a small wedding, personalise the letters by hand-writing them – even if you've used the same wording on everyone's card, people will be touched you've made the effort to sit down and write to them.
Begin with something effusive – 'We were delighted to see you at our wedding' makes the guest feel pleased they made the effort – then follow it up by saying how much it meant to you to see your friends and family together celebrating. Don't say you're pleased so many people turned up, which makes it sound like you thought the party would be a bit of a wash-out.
Add a note saying you hope the recipient enjoyed themselves on the day, and finish with some extra information about what you've done since – where you've been on honeymoon and, if you're moving in together for the first time, news about your house and setting up as a married couple.
Optional Extras
In the age of multimedia, there's nothing to stop you adding photos to your cards. A couple of pages of shots from the ceremony, reception and honeymoon are a nice way to remind people of the day. Stick to pictures of the bride, groom and bridal party – that shot of your husband's work colleague falling over on the dance floor might be funny, but doesn't really give a flavour of the occasion.
If you haven't given out wedding favours at the reception, you could drop a small memento into each card instead. Personalised printing companies can produce badges, keyrings, coasters and other small objects with words and photos for reasonable prices, so why not add your names, wedding date and favourite pic? Bear in mind posting favours will probably increase the cost of sending each letter.
For Those Who Couldn't Make it
Most people who turned down your invitation to the wedding will have had a very good reason and will want to know how you got on after the big day. When you're posting out your thank-you letters, send them copies of the photos or favours as well, along with a note saying how sad you were that they couldn't be there.
Hopefully, only a small group of people on your guest list will be absentees, so take the time to personalise their notes. Acknowledge the commitments that stopped them being there and ask how they're doing as well as including your own news.If circumstances limited your numbers – such as budget constraints or the fact you were getting married abroad – why not throw a party on your return from honeymoon for everyone that couldn't be there? Put the photo album on prominent display, make sure there's cake and favours for everyone to take home, and sit down for a good laugh at the wedding video…
You might also like...