The Best Wedding Gift?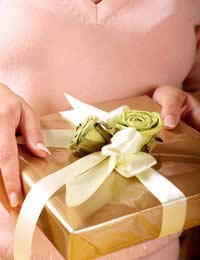 Style and taste are subjective: one bride's amazing gift is another's charity shop donation. It's hard to say what the best wedding gift to receive is. But after months of saving and the large wedding bills that are bound to come in, the best gift any newly married couple could receive is cash. The number one cause of divorce in the UK is disputes over money, so having the hard cash to settle any final wedding bills is the perfect gift to guide a couple along the path to a happy bump-free marriage.
Going off list
Nowadays most brides and grooms register with a department store, and provide their guests with a gift list. This takes the stress of choosing a present away from your guests and is often an easy and convenient option, but it also takes the freedom of choice away from your guests: they may not like or want to buy you anything you have listed. Friends and relatives of older generations are often offended by gift lists, and don't like to be told what gift they should buy. These guests often buy whatever gift they feel you would like to receive: to some brides these thoughtful, often personalised presents are amongst the most treasured gifts they receive. To others they are an albatross, because they cannot be returned and exchanged. If you don't want to run this risk, but don't want to buy from the list either, a universally pleasing gift is cold hard cash.
A much-wanted gift
A lot of people assume that giving or asking for cash is rude or inappropriate. But provided the tone and context aren't inappropriate and no one is left feeling uncomfortable, cash can be the most pragmatic and most fun wedding gift of all. After all, who doesn't love shopping? Often the gift of cash is a less stressful option for both the guest and the bride and groom. The guest can know that the couple they love and want to support will get exactly what they need, and the happy couple can choose what they want without any of the guilt associated with returning unwanted gifts. If the idea of asking for cash is too daunting for you, instead ask for cash in another form: gift cards, gift certificates and vouchers all make brilliant presents and still give the bride and groom the freedom to choose their own present.
Saying thank you
Whatever gifts you receive, it's important to say thank you in a timely manner. Conventional etiquette says that thank you notes should be sent out within 12 months, but a more realistic target is to have your invites sent out within six weeks. Of course, all guests should be thanked, whether they brought a present or not: their valuable time is gift enough! When thanking a guest for the gift of financial support it's important that you let them know what their gift has been spent on: a new toaster, honeymoon spending money, or even popped into your bank account and saved for a deposit on your first home. This acknowledges their gift and lets them know how it has helped you: that their contribution has helped you in some way is often the most important think to cash-giving wedding guests.
You might also like...