Brilliant Budget Wedding Ideas
By: Fiona Courtenay Thompson BA (Hons) - Updated: 6 Apr 2013
|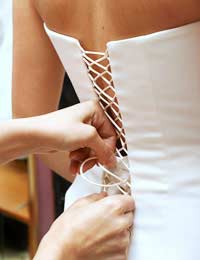 Everyone has a dream about their perfect wedding and in these cash-strapped times making and sticking to a budget is crucial. But what is a wedding really about? Pledging eternal love in front of friends and family, making it legal and, well, having a lot of fun in the process. So let's take a look at the fun bit – on a shoestring, of course.
So What is the Budget?
It might be hundreds of pounds or it might be a few thousand, but wedding planning can't begin until the budget is set. After that, look at what can be done rather than what can't. If that sounds worthy, think again. It takes discipline, creativity and negotiating skills to plan a brilliant budget wedding.
The Whole Picture
Instead of breaking the budget down into costs for each individual item straight away, take a step back and look at the whole wedding. The important thing at this stage is to gain some sort of perspective. Weddings are big industry at the moment and magazines, websites and newspapers put a great deal of effort into telling future brides that they need to recreate the latest celebrity nuptials. Don't even try. Instead, why not look at the mood of the wedding. Is it going to be serious and solemn or fun and frisky? Will it reflect the groom's love of fresh air or the bride's love of dogs? Or both? Maybe a family focus is needed, with space for children to run around and a safe haven where the grown ups can drink their fizz without fear. Even a wedding of unadulterated glamour can be accommodated on a budget, it may just mean there are only four guests.
Who's Coming?
Now, there is no doubt that the guest list can be the trickiest part of wedding planning. On a shoestring, the boss and the boss's boss can't come and probably nor can Great Aunt Hilda. But having decided on the mood, drawing up the guest list may become a little easier.
If the plan is for a huge wedding crammed with friends and family then draw up a long guest list with one eye on the cost of the venue and reception. If a quiet, intimate atmosphere is more important, the guest list will need to be shorter. In this case, send an announcement card to the people who can't come. This gives the opportunity to show them that they matter and to explain the necessity for a small wedding. A memento could be enclosed – something that will not break the bank such as dried petals that will be used as confetti, or a piece of silk ribbon to tie on their door on the wedding day.
The Invitations
Engraved wedding invitations on heavy card are best left to the Queen and her family. Modern invitations are sent by email. Email invitations are very cheap. There are online companies that will design and send the invitation for a modest fee, but one designed by a family friend or even by the bride and groom would be far better. This way, the invitation can really reflect the mood of the event.
What on Earth Will I Wear?
The budget is unlikely to run to designer bridal wear so there are a number of options: the local wedding shop, ebay, Oxfam or home made.
For a traditional wedding dress it is possible to get really good deals by shopping locally, but buying a second-hand dress and getting it altered could mean a perfectly-fitting dream dress at a fraction of the cost. Friends and family who can sew are gifts made in heaven – and the dress could be their wedding gift (although they must not be expected to pay for the materials).
And the Rings?
Traditional gold wedding rings are not always as expensive as would be expected. If the budget is really tight, though, try titanium or steel. These are both hard-wearing metals that look good, and because they are often used by contemporary jewellers you can find some original and beautiful designs. A really original ring could double for both wedding and engagement.
The Flowers
Flowers can cost a fortune but they don't have to. Plant up lots of pretty pots of pretty flowers and they can be moved from the ceremony to the reception without mess or fuss. Raid a friend's well-stocked garden (with permission of course) for posies for the bride and bridesmaids. Silk flowers can also look very beautiful and don't wilt or scatter pollen.
If the wedding is in a church, talk to the church flower arrangers and they may be able to fit the flowers for that week around the wedding theme for the cost of a donation to the church fund.
The Photos
Everyone brings a camera to a wedding. Warn your guests in advance that they are all taking the wedding photos. In this age of digital photography a couple of albums worth of great photos will be clogging the inbox within a week of the wedding.
Where to Tie the Knot
Almost anywhere goes these days: a field, a medieval hall, a church or register office. Once the guest list and budget are set then the spot can be picked. Obviously, the cheapest option is a field (but consider the British weather and have a contingency plan) and after that the register office. Churches cost a little more but for some only a church will do - just leave out the bells and the organ to save a few pennies.
The Party
A wedding reception is a party. People need to eat and drink, they need somewhere to sit, they want to see and hear the bride and groom and, usually, they want to dance. The venue needs a bit of atmosphere and it needs to look nice. Once upon a time the reception would have been held in the bride's parent's house, no matter how large or small, so keep it simple. If everyone will fit into someone's house or the village hall, why not consider it. Decorations can be simple too. Lots of white fairy lights are always lovely, as are candles on tables. Consider asking people to bring food, or a group of friends to do a buffet. Really good deals on wines can be found at large wine merchants and supermarkets (and wine glasses can be hired free of charge at most suppliers, too).
And Finally, the Cake
So much fun can be had with a wedding cake. Why have white icing and fruit cake when your mother could make a sponge cake model of the Empire State Building with King Kong on top, or a tower of lilac-iced cupcakes held up by cupids. If mother hasn't the skill, someone will. Or go to the local bakery – they will charge much more for a traditional wedding cake, so tell them it's a birthday cake and have a simply decorated fondant instead of royal icing.
Dare to be Different
Having a brilliant budget wedding is about daring to do things differently. Think of how it 'should' be done, and then think of a different way and everyone will have a day to be remembered.
You might also like...