A Christmas Wedding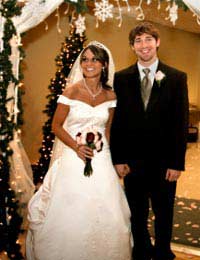 When planning a wedding, choosing the date is extremely important, not only to make sure all your guests can attend but also because the time of year has a heavy influence on theme and colour scheme. Many people opt for spring/summer weddings because of the better weather and the brighter colour schemes but the idea of a winter wedding and in particular a Christmas wedding is becoming extremely popular.
There are a lot of pros and cons with a Christmas wedding but done right, it can be a magical and enchanting day.
One thing most Christmas brides hope for is snow to add magic to the big day and for beautiful photographs. As we all know, weather is unpredictable so it could be an option to have a snow machine on stand-by.
Outfit
Probably the most important aspect of a bride's big day is her dress. For a Christmas wedding you need to make sure you will be warm enough while standing outside for photographs as well as looking gorgeous.
A popular choice for brides is a fur stole to match her dress as it is easily removed for the reception, is warm enough to keep out the bitter cold and looks gorgeous and festive in the outdoor photographs. Another option is a cropped long-sleeved jacket made to match your dress which again is easily removed for the evening reception. If you didn't want anything showing apart from your dress, you can always slip on something under your dress and no one will know.
Decoration
Colour schemes for Christmas weddings vary from sparkling white, silver and black to luxurious gold and red and can make the difference between a contemporary or traditional looking day.
Popular flowers for Christmas and winter weddings are roses both red and white as well as lilies to add more depth and scent. As well as using flowers to decorate the venue there is always the option of using tastefully decorated Christmas trees. Lots of candles or fairy lights can help create a romantic and magical atmosphere.
Favours
For Christmas weddings you can always have the more traditional wedding favours or go for something related to your theme and have a bit of fun. Here are a few of the best Christmas themed favours:
Personalised candy canes – done in colours to match the rest of the wedding theme and with the bride and groom's name and date of the wedding, these are a fun and tasty way of thanking your guests for coming
Christmas tree baubles are a novel and fun favour for all guests. Inscribed with the couple's names and date of the wedding day it is something they can keep and use forever, reminding them of your wonderful day
Mini Christmas parcels can also make nice favours for the big day with a present of your choice inside
Entertainment
With a Christmas wedding, as well as the traditional forms of entertaining your guests, there is also the option of carrying on the festive spirit and hiring a Santa for your younger guests. It is useful for keeping kids occupied and also adds a bit of magic to their day as well as yours. It is also a fun addition to some of your wedding snaps.
Hiring a jazz band is very popular for all types of weddings and with a Christmas wedding you can enjoy all the classic Christmas songs "White Christmas" etc from a live band as well as all the other old romantic songs.
Christmas weddings can often prove cheaper than at other times of the year as it is low season for hire cars, florists etc so it is possible to get good deals but be careful booking your venue as many are pre-booked in advance for Christmas parties and other functions.
You might also like...