Colour Themed Weddings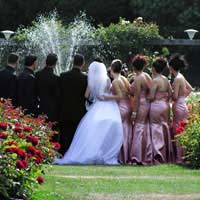 When choosing a theme for your wedding you could keep it traditional and simple or do something a bit more extravagant. Using colours in your theme will allow you a huge amount of flexibility.
Choosing the Colours
Some colour combinations could be:
Hot pink, black and silver
Ivory and silver
Black and white
Baby blue and white
Blue and gold
Those are just some examples but make sure you choose colours which complement one another. With this idea you can choose colours that are bold and striking, such as the hot pink, or more traditional such as the ivory.
Colour for Guests
You don't have to limit your guests to wear just the chosen colours. Your theme could encompass everything except the guests. If you do choose to get your guests all dressing up in pale blue then make sure you tell them all early on. Not everyone will have your chosen colour to hand in their wardrobe and may have to go out to buy something.
If you did have quite a striking colour and didn't want to overwhelm your wedding in it then you could give you guests the option to wear an accessory in that colour.
Flowers
If you can't get flowers in your chosen colours – you probably will be able to – then you should talk to your florist about adding in the other colour using ribbon and coloured wire. Your florist will be able to talk to you about the varieties of flower that come in that shade. Any expert will help you to make a fully informed decision.
For example, for hot pink, black and silver try bright pink roses wrapped in a black bow and accessorised with silver wire and diamanté crystals.
Invitations
This is where you can be really creative, try finding a friend who is good with a computer to design you a logo that incorporates your colours. This logo can then go on any material such as favours for the guests, goody bags, invitations, tablecloths and so on.
Consistency
Ensure that you keep your colours consistent throughout what you are doing. If you use one pink on your invitations but then a different one on the place cards then it might be quite noticeable. Find a shade you really like and stick to it. If you are working with printers ask them for the name (or hex number) of the colour so you can relay this to anyone else who needs the exact shade.
Of course it may be difficult to get flowers in the exact shade but if you take your colours into your florist they'll be able to get you the closest match.
Photography
Having a colour theme can mean great things for your photography. But remember, whatever colour you choose will be stuck with you in your wedding photos for years to come. Make sure you relay to your photographer your plans as they can take and edit photos to suit your theme.
You might also like...