How to Cope With a Crisis on the Day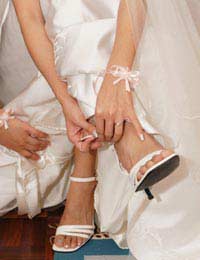 Even if a wedding is planned with military precision it is impossible to guarantee that nothing will go wrong and so the key to dealing with any incidents is being prepared for various possible problems.
The important thing is to make sure that everyone who has a role in the wedding is fully aware of what they have to do and what is expected of them as this helps to minimise the risk of any mix ups on the day. The best-man and the maid of honour are especially there to help ensure that the day runs as smoothly as possible so make sure that they know the plans for the day and are able to deal with any behind the scenes issues that may occur.
Here are a few possible crises and how to deal with them.
Dress Mishaps
For the bride, the wedding dress is the most important outfit of the day and any incidents involving the dress can have the potential to ruin a big day. Have someone carry a mini sewing kit can help in case of any rips or tears in the dress. Prevent spillages on the dress by avoiding drinks like red wine and making sure your dress is well protected during the dinner. It may be useful to have a spare pair of shoes on hand in case of broken heels or other shoe disasters.
Family Issues
With families coming together from all over and many relatives meeting again for the first time in a long time, sometimes arguments can occur. Prevent this by creating a sensible seating plan, putting groups of people together who have lots in common and keeping potential arguments at bay.
Overindulging in Alcohol
Wedding days can be long and often with alcohol flowing it is easy for guests to end up a little worse for wear which can cause all kinds of problems. This is especially likely with a free bar so it may be wise to consider a bar where guests but their own drinks as it may reduce the risk of excessive drinking. A drunk bride or groom never looks good in photographs and you want to be able to remember your special day so maybe only have the odd glass of champagne or drink soft drinks for a while.
Injury or Illness
Everyone at a wedding is there for a good time and with the alcohol flowing and spirits high, the risk of injury is quite high so it is important to know how to deal with it safely and without panic. Most venues have their own health and safety rules in place and are also equipped with first aid kits so notify a member of staff and they will be able to help. Illness is another risk and if it occurs it is impossible to avoid. If it is one of the wedding party who has become ill and cannot attend, try and shuffle roles so it doesn't have a devastating effect on the big day. If it is the bride or groom who is ill, the best you can do is try your best to get through the day as the cost of cancellation is huge.
Cancellations
A big risk with weddings and a couple's worst nightmare is cancellations on their big day whether it is the venue, caterer or music. If it happens at the last minute it is very hard to resolve but having a list of possible alternatives can be useful to try and find a solution.
You can't guarantee what way things will turn out but no matter what happens on your day, as long as you are fully prepared for anything to happen nothing will ruin your special day.
You might also like...