How to Have an Extravagant or Spectacular Wedding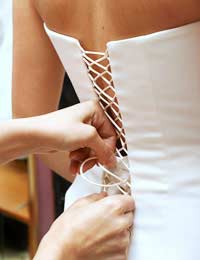 Generally these types of weddings do cost but it isn't your budget that will make your wedding extravagant. Think over the top, glittery and bold!
The Dress
There are loads of designer dress companies out there offering wedding dresses. If you want to wow your guests then look for diamonds, real crystals and bright under skirts. If you are brave enough then coloured underskirts are all the rage this season. Look for pastel colours to brighten your white or ivory dress. Or go for bold, bright or shimmery colours to really add in that extra wow factor.
You want a dress that commands a sort of presence, a huge train or full skirt. A corseted bodice that gives you the perfect hourglass figure or accessories that really packs a punch. Look for real diamond necklaces, pearls, long silk gloves and super high heels.
The Venue
You either need somewhere huge and impressive for your wedding or somewhere quirky and different. Historic houses make grand backdrops for any wedding, or if you really want to go all out then it shouldn't be too hard to find a castle or estate to hold your wedding in.
The Guest List
To really show off your popularity and get some amazing crowd shots invite as many people as you can, especially to the reception. If you've hired a huge venue then you shouldn't have a problem fitting everyone in. Ensure that everyone dresses appropriately for the wedding in lovely dresses and smart suits - make this clear (tactfully) on the wedding invitations. Maybe incorporate a theme that says the women have to wear something glittery such as diamonds.
The Food
Think ice sculptures, caviar and champagne. Go all out on the food, this is where you can spend your money. Make sure you visit various caterers and sample what they've got to offer. You can look for a theme to your food, anything from organic, locally sourced foods to rare delicacies.
Along with food you have to have a good selection of drink. Whether you choose to have an open bar or not make sure you have plenty of champagne, wines, spirits and soft drinks on offer to cater for everyone's tastes. If you are serving alcohol and intend the party to rage on into the early hours then you might want to consider not allowing young children to the event. This frees up the dance floor and ensures your parent guests don't go home early because of a sleepy child.
Flowers
You can surround the venue in beautiful flowers; look for diamante tipped grand prix roses. You can even get these in bouquets of 100. Provide corsages and button holes for your guests and wedding party, these smell great and look stunning. Make sure your bouquet really stands out, so choose a really good florist who can give you different shape of bouquet to choose from as well as a range of flowers, colours and decorations.
Arrival
There are many ways you can arrive at the wedding. This could be by horse drawn carriage, vintage car or even a limosine. Think about themes you have going on and what would really wow your guests. Also, think about the venue, what sort of transport would look best with that as a back drop?
You might also like...