How to Hold a 50's Themed Wedding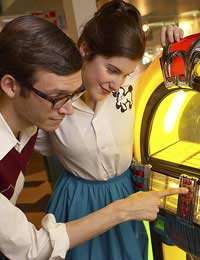 A 50s theme is classy, elegant and brilliant. Your photography will look amazing and all of your guests will have a brilliant time.
What to Wear?
A vintage 50s wedding dress would be the obvious choice. However, these aren't always easy to find and tend to come in small sizes. They are also rather costly. If you can't find a vintage dress then take a look at some designers who do 50s style wedding dresses. You can achieve the same look without the cost and upkeep of having a vintage piece.
You can also find brilliant vintage suits for the groom. If you find a lovely one that might not fit perfectly then take it to a tailor. Your tailor can also repair any signs of age such as ripped stitching or missing buttons.
The bride's shoes should reflect a style from that era. If you can't find vintage shoes then go for a high-heeled peep toe. If you really want to make an impact, find shoes with polka dots or bright colours.
Hair and Makeup
Everyone is loving vintage fashion at the moment, this means that more and more dedicated salons are popping up to cater for those who want 50s makeup and hair.
If you – or your salon – know how, traditional pin curls will be your best bet. There are also great photo opportunities at the getting ready stage with your hair tied up in a silk scarf.
As for make up go for simple but striking eyeliner on your top eyelid and pair with some bright red lipstick. If bold lips aren't your style then talk to your make up artist about a more subtle pink.
Food
Cupcakes in various pastel colours with glitter and silver balls tend to be one of the most popular choices for a retro wedding. If you still want a traditional style cake then ask for polka dots or stars on it. Keep with pastel colours or bright reds and make sure your colour theme continues through out the wedding.
A selection of retro sweets in old style sweet jars will keep the kids happy and will also add colour and excitement to your wedding. These can be brought out at any time during the ceremony or reception.
Entertainment
Rock 'n' Roll bands aren't too hard to find and with give a touch of authenticity to your wedding. If you know that guests may not appreciate a night of one type of music and would prefer a mixture, a disco is the way forward. If you do choose a disco then make sure to ask the DJ if they have the sort of music you want to play.
Flowers
Pastels, creams and whites will make the perfect colour palette for your flowers. Take a look at David Austin English roses. Their cut roses come in a variety of light shades and in beautiful pinks and creams. These are best used for the bride's bouquet but will work well for all your flowers, especially when paired with lilies.
Décor
No 50s party would be complete without bunting. You can make your own or there are various vintage shops out there that sell it. You could have red with white polka dots, pale pink and blue, the union flag or even a skull and cross bones design.
If you can find them then vintage signs would work nicely. These could be used to point guests in the direction of the cloakroom or to indicate where guests go upon arriving. Have a hunt around vintage homeware stores on and offline to see what you can find.
You could also buy large wooden lettering to dot around your venue. Try getting some large gold letters to spell out ' I Do.'
You might also like...