How to Reduce Stress for Brides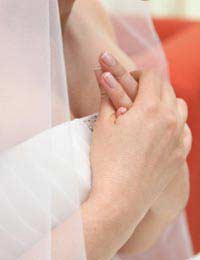 Planning a wedding can sometimes feel like a full time job and it's no wonder that getting married is one of the most stressful times for a couple. The brides in particular often feel it the most as they are commonly 85% more involved in the preparations for the big day. Your wedding day is a day of happiness and one you will never forget and shouldn't be ruined with stress and worry. For all you brides there are many different ways to reduce the stress of your wedding day and help you relax and enjoy the celebration.
Here Are Our Top 7 Tips for Avoiding Stress on the Big Day
1. Money is a massive worry for would be brides as weddings are getting more and more expensive and the pressure is on to achieve high standards and have the best of the best. Try not to get too worked up in the "dream" day and have a look at cheaper alternatives for your choices such as making your own invitations and favours, having a buffet lunch instead of a sit down meal or even getting married on a weekday as it can work out up to 20% cheaper than a weekend day. Reducing costs will reduce money worries and stress and leave a happier bride.
2. Focus on what will make you and your husband-to-be happy and try not to get caught up in what other people want. Try to remember that it is your big day and as long you make the choices that will make you as a couple then you will have a day to remember.
3. Let your husband play a bigger role in the planning of your wedding. Often brides take the majority of the stress that comes with organising a wedding when they can offload some of the worry by sharing responsibilities with their groom. He will probably enjoy helping you to make decisions and will be happy to take some of the stress away from you.
4. If you don't trust your man to help you, enlist your mum and friends to help you make decisions and get everything ready for the big day. If budget is no option, hire a wedding planner to take the stresses of organising the day and leave yourself free to enjoy it.
5. Make sure you are completely prepared. Your wedding day is a day full of excitement and nerves so by knowing that all preparations have been made, it should make you feel at ease. Go for a hair and make-up trial before the big day so you know exactly what look you are going for and are comfortable with it.
6. In the few days before your wedding day, indulge yourself with some pampering maybe with your mum/friends/bridesmaids to take your mind off all the planning and worry. When your day arrives, you will feel gorgeous, relaxed and completely stress free.
7. On the day itself, leave plenty of time to get everyone ready and organised. Even if things don't run on time, at least you have allowed for it and there will be no frantic rush to get to the ceremony in time. And remember, if you are late, it's the bride's prerogative to be late and they can't go ahead without you.
By following some of our tips above you should be able to avoid the horrible stress of organising a wedding and be free to fully enjoy the first day of the rest of your life.
You might also like...