Instructing Your Photographer for Your Perfect Day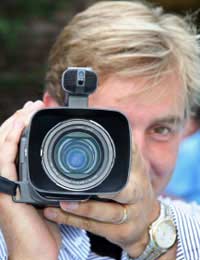 You will already have chosen your photographer; they will have a style and a price plan that appeals to you. You should already know a bit about the photographer's style and should be happy with what they are offering you. You might also have some ideas about how you want your wedding photo's to look and be presented but getting them across to the photographer is the key. Below are some helpful pointers:
1. Look at The Photographer's Portfolio
It is likely that you will have already had a look at their portfolio on their website, if they have one. Go back to it with your partner and go through each shot assessing which ones you really like and thing would work with you and your guests. This way when it come to looking at the portfolio with the photographer you can comment on what would like and don't like in his or her photos.
2. Pre-wedding Meeting With the Photographer
Most photographers will offer the chance for you to meet up before the wedding to go through what you would like and to look at some of their shots. If they don't offer this then do ask for it, it is worth it even at a little extra charge because you get to meet your photographer before the big day and all this will get you feeling more comfortable about what he or she can offer you. You will be asked a few questions about what you are looking for, answer these truthfully, it'll give your photographer a better idea of what you want. Also when going through their portfolio be honest about what shots you like and which ones you don't. Wedding photography can be quite dynamic and this style doesn't appeal to everyone, if it doesn't appeal to you then say that you are looking for more traditional shots.
3. Tell the Photographer What You Want
If you have done your research then it is likely that would will have found loads of different pictures and styles that appeal to you. Show the photographer and compare the shots you have found from others with his or her shots. Any good photographer will know how to replicate shots just by looking at a picture that someone else took, they should also be able to do it from a description of a photograph. Also let the photographer know whether you would like to take family members aside for formal shots as well as snapping away candidly throughout the day.
Of course, your photographer will be able to make decisions regarding what will look best for you and your wedding party as well as be able to instruct you and your guests in any posed shots.
4. Discuss Photo Products
You may have already discussed what you want product wise from your photographer. You have the option of albums, prints, discs, slideshows, thank you cards, wall mounted images, any good photographer will provide a wide range of these. Think about where in your home you would want to show off your pictures and if you want something to hand down to the generations. If you want a family heirloom then an album is a good choice but if you have a wall with nothing on it in your home then consider a canvas as well.
If a photographer knows what sort of products you want then often they can shoot with this sort of thing in mind. This makes the overall look of your album or prints much tighter as the photographer can crop to fit the images to the album or use post processing techniques to get the colour of that wall hanging perfect for a living room wall.
Even if you don't know what you want from your photographer but like their photographs then it is very likely that you will be even more impressed with their style of photographs covering your wedding day.
You might also like...