Top 10 Most Expensive Weddings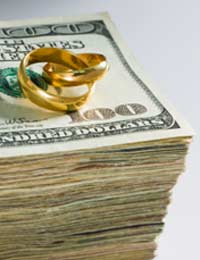 This year the average wedding will cost £21,000. That's a considerable amount of money for any young couple to find. But what many people don't realise is that a marriage certificate only costs £3.50, and a ceremony at a registry office is only £100; any extra money spent is just on a big party. Of course, we all want our weddings to be beautiful, but that doesn't mean you have to spend a fortune. However it seems no one told that to these happy couples, who between them had ten of the most expensive weddings in the world!
Vanisha Mittal and Amit Bhatia
The world's most expensive wedding was thrown by Lakshmi Mittal for his daughter Vanisha Mittal and her fiancée Amit Bhatia on June 22 2004. The estimated reported cost of the wedding celebration came in at a mere $60 million USD. For that tidy sum the couple enjoyed a six day long celebration for a massive 1000 high profile guests in a five star Parisian hotel, featuring a performance from pop sensation Kylie Minogue.
Sheikh Mohammed and Sheikha Hind Bint Maktoum
Back in 1979 Sheikh Mohammed built an entire stadium for his 20,000 guests when he married his first cousin, Sheikha Hind Bint Maktoum, in what was one of the biggest royal weddings the world has ever seen. The wedding lasted a whole week during which the Sheikh rode his horse to every village to feed his countrymen. The whole wedding event cost a total of $44.5 million, which would equate to approximately $100 million in today's terms.
Vikram Chatwal and Priya Sachdev
Vikram Chatwal (son of a New York hotel magnet) tied his knot with Priya Sachdev in what has been called the most luxurious wedding of India. The ceremony was graced with the presence of high profile personalities including Bill Clinton, Manmohon Singh and Naomi Campbell. Everything from setting to guests, ambience to entertainment in the Chatwal wedding was an awesome extravagance.
Donald Trump and Melania Krauss
The lavish wedding of Donald Trump and Melania Krauss at Palm Beach, Florida was in news round the year of 2005 for its sheer opulence and flamboyance. Adding charms to this extravaganza was the graceful presence of Bill and Hillary Clinton, Shaquille O'Neal and Rudolph Giuliani. The glaring features of the wedding included 45 chefs, 10,000 flowers and a 200-1b marnier cake.
Miss Yugoslavia Aleksandra Kokotovic
The pompous and ostentatious wedding of Andrei Melnichenko Russian billionaire and Miss Yugoslavia, Aleksandra Kokotovich, a Serbian model, at Cote D'Azur, France in 2005 added a chapter to the history of world famous wedding ceremonies. Performances by Christina Aguilera and Whitney Houston were the most appealing attribute of the lavish ceremony.
Liza Minelli and David Gest
Liza Minelli married David Gest at Manhattan's Collegiate Church in 2002 in a flamboyant and over the top event. The couple invited 850 guests, and the bride was given away by Michael Jackson. 500 members of staff were hired to look after the guests' every need and the celebrations began when the couple cut a 6 foot, 12 tier cake. The extravagance of the wedding included $700,000 for flowers and $40, 000 for wedding cake... the marriage was over within a year.
Paul McCartney and Heather Mills
The $3 million wedding ceremony of Paul McCartney and Heather Mills in 2001 was accompanied by a grand feast and a dazzling firework display. An Indian themed reception and a performance by dancers clad in traditional India dress were held for the extravagant couple. They spent their first night as a married couple on a $20 million yacht, at the cost of $ 19,000.
Tom Cruise and Katie Holmes
Tom Cruise's wedding to Katie Holmes, at Italy's Odescalchi Castle in 2006, was a stunning spectacle with a lot of flamboyance. Giorgio Armani designed the wedding dress and all the other outfits for the entire bridal party (including baby Suri). The cost of this extravaganza? A cool $2 million.
Christina Aguilera and Jordan Bratman
Pop sensation Christina married music executive Jordan Bratman in November 2005 in Napa Valley, California. The bride wore a Christian Lacroix wedding dress valued at $30,000, and the couple exchanged wedding rings each costing $40,000. The wedding reception party was held in a tent decorated with thousands of white roses. The cost of the whole wedding was also a whopping $2 million.
Elizabeth Hurley & Arun Nayar
There was no end to the glamour and grandeur in the wedding ceremony of Arun Nayar and Elizabeth Hurley in 2007. The festivity lasted for eight days across two continents – Europe and Asia. The ceremony made its way from the Sudeley Castle in Gloucestershire to Umaid Bhawan Palace in Jodhpur, India. The couple's accommodation at the palace suite cost $10,000 a night. Money can't buy you happiness however, as this marriage has also ended in divorce.
MEMORABLE WEDDING IS FOR SALE.
This website is for sale [more info].
You might also like...