Unusual Wedding Venues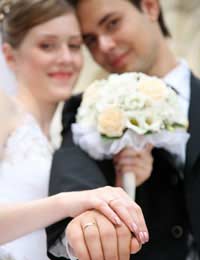 When it comes to your wedding - the biggest day of your life - you should try to make it as special and unique as you want it to be. If a themed wedding isn't to your taste, try looking at unusual locations and see if any of these fit the bill.
Medieval Wedding
Go medieval and get married in a castle! There are lots of castles dotted around the UK that are just perfect for those romantic wedding photos. Go for tight corsets and bustling full skirts, accessorised with a simple hand-tied bouquet of white flowers and orange blossom (symbolising love, faithfulness and fertility). Arrive by horseback if you're brave, or horsedrawn carriage if you're not. For the wedding banquet, feast on roasted meats, cheese and food you can eat with your fingers.
Get Married in Ice
If you want something really different and you don't mind the cold, head off to Scandinavia. The IceHotel in Swedish Lapland is made completely of ice and is rebuilt every year. The stunning IceChapel is open from late December to early April most years and has become one of the top destinations for weddings and honeymoons, especially when the ceremony is followed with a wedding night stay in a magical design suite in a truly unique location.
If you're not so fond of Ice, try Finish Lapland instead. The Lainio Snow Village is set in a beautiful wooded area, tucked away in some of the most beautiful scenery you will ever see. The bride can arrive by husky sledge or reindeer, and the tiny log chapel has an open log fire and provides a stunning view from the altar. The honeymoon cabin has a private sauna and is nestled into the snow-covered forest, making it a stunning place to relax and enjoy your first days together as husband and wife.
London Eye
If you've got a good head for heights, why not get hitched on the London Eye?
Imagine being swept off your feet and slowly ascending over the beautiful City of London - as your private London Eye capsule reaches the top of the wheel you will be pronounced husband and wife.On the descent, your waiter will serve you champagne and orange juice as you float gently back to earth. There are several different packages available, so shop around to get what you want.
American Weddings
If you fancy heading off to the US to say your vows, why not head off to the place where dreams (and nightmares!) come true:
Las Vegas
Eternally linked with the King of Rock and Roll, Elvis Presley, if you fancy sneaking off to the Nevada Desert and getting hitched in the tackiest way you can, you can book yourself an Elvis wedding!
A typical package at the Elvis Chapel, Las Vegas includes:
Elvis impersonator singing 3 songs
A six-rose bouquet
Elvis will 'give the bride away'
Elvis will preside over the ceremony and will administer his own vows.
24 photographs
Video Tape of the ceremony (DVD is $25 extra)
2 pairs of Elvis Sunglasses
Limo to and from your hotel
The above package will set you back around $300 (about £150) but that doesn't include tips, taxes or the legalities you will need to complete before getting a wedding permit.
New York City
If you fancy the idea of getting married in the USA, but don't want the bling of Vegas, you could opt for holding your wedding ceremony on the 80th floor of the Empire State Building, overlooking the stunning Cityscape of New York and Manhattan.
They only allow weddings once a year at the Empire State - on Valentines Day, and to be eligible you must write to the building staff and give them a good reason why you should be married there above the other applicants. Only the best, unique reasons will be chosen, so you'll need to get your thinking caps on and get writing!
Underwater Weddings
We've all seen the photographs of wacky couples tying the knot in wetsuits and snorkels and yes, we've all wondered how they get the vows out - not to mention how they get around the 'you may now kiss the bride' bit. The outfits leave a lot to be desired (unless you're in the minority that look good in rubber!) and these kind of weddings are not for the girl who wants to show off her stylish hairstyle in the photographs.
However, if an underwater wedding floats your boat, head off to somewhere idyllic such as Bali, the Med or Australia - the scenery will be wonderful and you can always hold a starfish or some coral instead of a bouquet!
There are lots of companies abroad that deal in this type of wedding and usually they will arrange a training session beforehand to make sure you're happy with everything before the ceremony.
African/Safari Weddings
African and Safari weddings are getting more and more popular as they encompass a wedding ceremony in a beautiful, natural setting, followed by a once-a-lifetime honeymoon in the wilds of Africa.
Zambia, Tanzania, Botswana, Namibia are all popular locations and there are specialist companies that will arrange the perfect African wedding for you, whether you'd plump for a traditional tribal wedding in a remote bush location surrounded by wildlife, barefoot on an Indian Ocean beach or on an Island in the middle of Victoria falls, the choice is up to you!
You might also like...