What to Do With Your Wedding Dress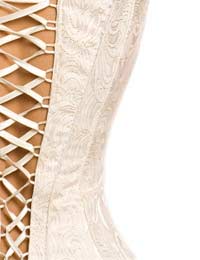 For most brides, their wedding dress is the centrepiece of their special day and is often the first detail they think about when planning ahead for the big day. A wedding dress is the most important dress a woman will wear in her life so it is a big decision to choose what to do with it after the big day.
Pass it down
One of the traditional ways to make use of a wedding dress is for the mother to pass it on to her daughter to wear on her own big day.  With constantly changing fashion trends, many women choose to alter it slightly to update the look but it still retain the sentimental value.
Store it
The majority of brides chose to store their dress away after their big day as a keepsake.  It is important to have it professionally cleaned after your wedding day and to store it in a dry, dark place such as a loft or storage cupboard. Make sure it is sealed in an airtight bag/box to prevent any damage.
Re-use it
One of the oldest traditions to re-use a wedding dress is to use the material to create a Christening gown for the bride's first born child. This tradition has been around for centuries and as well as keeping the sentimentality of the dress, it was often used, especially around the war, as a way of saving money. With many modern wedding dress designs becoming more contemporary, it can be hard to create a garment suitable for a child due to embellishment and tough fabrics but often the material of the underskirt is the most suitable. It is also a chance to create a family heirloom from the most important dress of your life.
Donate it
Nowadays if you want to donate your dress to a good cause but don't want it to sit in a dusty corner of a charity shop, there are lots of brilliant charities who will put your dress to good use. Many send the dresses off to countries in Africa for brides to wear on their big day as they can't afford their own. It is seen as more than a pretty dress for their big day but rather a symbol of hope for the future. This can be a nice way to see your dress put to good use as well as helping out with a worthwhile charity.
Trash it
This is a relatively new idea of trashing your wedding dress after the big day. There are hundreds of photographers who provide specific packages so you can go out for a day and trash your wedding dress for a unique photo shoot. There are so many ways of trashing your dress and the method you choose depends on the type of photographs you want. The most popular ways of destruction are paint fights, muddy scenes, rolling around on a beach and even setting it on fire. Some choose to have a more romantic photo shoot underwater or in the sea. Trashing it isn't an option for everyone as a wedding dress holds a lot of memories and feelings for some people but to others it is a fantastic way to have some fun and create unique and creative pictures to go with your wedding album.
You might also like...