Catering for Different Dietary Needs at Your Wedding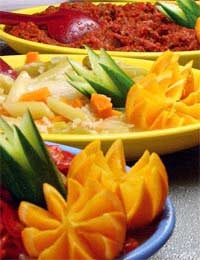 An important aspect of any wedding is the food; the wedding reception is something that not only the bride and groom will remember but also everyone that attends. With this in mind it is important to ensure that the reception goes as smoothly as the wedding service itself and there can be nothing more important than ensuring the food is right for all who eat it.
Allergies
One common horror story about wedding receptions and buffets is people falling foul of certain allergies during the course of the meal. When it comes to counting the numbers and going through the invitations for the wedding it is important to ask the question: Do you have any allergies? It may sound like something you should do automatically and indeed it is but you might be surprised as to just how many people forget to ask it; especially if they don't have a wedding planner.
Wedding Favours
For those unfamiliar with planning a wedding a wedding favour is rather like an individually wrapped chocolate. Indeed wedding favours come in many different forms from individually wrapped chocolates and sweets to candles and small trinkets that your guests can take home with them. When it comes to edible favours however care must be taken; you should be aware of allergies to nuts, cocoa, milk etc and also the fact that some individuals have intolerances to certain food groups. An intolerance is different to an allergy in as much as it can leave the sufferer serious ill whilst an allergy will wear off much sooner.
Healthy Eating
Your wedding day is a day of celebration of that there is no doubt but this does not mean you should sacrifice your own standards of healthy eating. Indeed many of those present at your wedding reception may also have their own high standards of healthy eating and with a healthy eating option you may find that (a) a number of your guests don't eat anything and (b) you are left with a considerable amount of wastage at the end. Again planning the menu in advance and giving your guests the choice at the invitation stage is always a good idea.
Special Dietary Needs
We have already touched upon allergies and intolerances but there are some of your guests who may have special requirements when it comes to their food because of medical conditions. Some people who suffer from heart conditions or conditions relating to their digestive systems may not be able to par take in the many wondrous dishes on your wedding day menu so again it is best to establish early on if you have anyone among your guests who has a special dietary requirement. This is vitally important if your caterer is making batches of food in bulk and must be double checked to ensure those individuals with special requirements are not simply served with the same foods as everyone else.
Check and Check Again
Remember it is your day and you want it to run as smoothly as possible; the last thing you want is one of your guests falling foul of a foodstuff they didn't ask for. Check with them at the time of sending the invitation and again closer to the wedding day itself and also check with the caterers to ensure that they too are as concerned with the ingredients of your chosen dishes as you and your guests are. It is always best to check and recheck with caterers especially if there are last minute changes in numbers or menu substitutions.
You might also like...