Wedding Beverages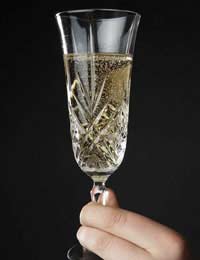 A wedding's a licence for people to enjoy themselves and for many that means being able to let their hair down with a little excess alcohol. But as anyone who's ever wandered into an off-licence in a hurry knows, there's a bewildering variety of wines, beers and spirits out there, and the decent ones aren't cheap. So how do you decide what to serve - and more importantly, how do you manage to pay for it all? Here's a guide to ensuring your guests can toast you health in style.
Bar Blues
An open bar used to be one of the biggest attractions for wedding guests, but as costs rise and binge drinking becomes more common, many couples are increasingly reluctant to have an open bar. If you'd love to be able to treat your guests to free booze, but can't face a high bill at the end of it, consider limiting the types of drink on offer. Spirits are the costliest part of any bar, so you can save money by serving beer and wine only.
Because drinking's such an expensive habit these days, a cash bar no longer carries the stigma of meanness. Asking guests to pay for their drinks means you can offer them a better variety of beverages and doesn't leave you with a hefty price to pay.
Bringing your own booze will almost certainly be cheaper than asking your venue or caterer to supply it. Get a deal on 'sale or return' alcohol from a supermarket, off-licence or cash and carry, or take some volunteers on a 'booze cruise' across the Channel. Bear in mind that venues will charge a corkage fee for alcohol you bring in.
Drink Responsibly
If you're not using a hotel, pub or club of any description, make sure your reception venue has a licence to serve alcohol before you book. If it doesn't, you may be able to obtain a Temporary Event Licence for non-licensed premises, which will cover you for the period you're using the venue. Do not, under any circumstances, go without a licence - you could face a £20,000 fine or even a prison sentence.
Drinks of the Day
Depending on how early guests arrive, they may well want drinks before the service, especially if it's a hot day. If you've got space to set up a serving table, offer glasses of punch or water to refresh people before they go in for the ceremony.
At formal dinners, minimise fuss over wine by picking one decent red and one white, then offering guests their choice as glasses are refreshed with each course. Trying to match dishes to different wines will cause more confusion than it's worth.
It's not compulsory, but a sip of champagne is still the most festive way to toast the bridal party. Organise trays of filled flutes just before the speeches, so everyone gets a glass each for the formalities.
Don't forget there will be some people in attendance who won't be drinking alcohol. Place jugs of water on every table and arrange for them to be regularly filled. Your bar should also include juice and soft drinks, which make good mixers for spirits as well as being drinks in their own right. Order your minerals on sale or return so you can bring back any unused bottles.
Cocktail Hour
If you can afford to push the boat out, glam up your reception by hiring a mobile cocktail bar with professional barmen to mix drinks for the guests. Ask beforehand if they can prepare some signature cocktails for the do, but make it clear whether your budget can stand drinks mixed with champagne or expensive liqueurs.
For a really special touch, why not create a cocktail especially for your big day? You don't have to hire a professional - simply visit Great Cocktails, the cocktail recipe site for inspiration, then adapt by adding a different fruit juice or brand of spirit for your finished article. Give it an appropriate name and make sure every guest gets a glass before the dancing starts!
You might also like...