Balloons and Wall Decor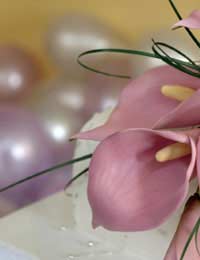 They're not just for kids' parties - balloons are a cheap bold and effective method of decorating everything from tables to entire walls. Nor do you have to spend a fortune on floral arrangements to get wall decorations that look fabulous. If you're on a tight budget or simply fancy something a little bit different for your reception venue, here's how to do large-scale decorating the smart way.
Tools of the Trade
Plain, patterned, big, small, double-walled, metallic or just the traditional rubber, balloons come in a massive variety of colours, shapes and sizes. Get a bold visual effect by using a single colour, or mix and match the shades in your colour scheme for a more varied look. Metallic balloons are more expensive, but produce a more polished, stylish result. If you've got a theme, buy shaped balloons that fit in with the motif.
Helium's the best gas for filling display balloons as it's readily available, long-lasting and lighter than air, meaning the balloons will actually float rather than sagging to the ground. Get you hands on some helium pumps if you're planning on large balloon decorations - it might be more expensive than air, but it'll save you hours of sitting around blowing them up by lung power alone!
You'll also need plenty of string to provide attachments for the balloons; sellotape for fastening to awkward surfaces; weight boxes if you're planning on free-standing arrangements; ribbon for decorative ties; and a decent pair of scissors for cutting. You can also purchase sprays that increase the staying power of balloons, allowing you to decorate the day before without worrying the arrangements will flop overnight.
Walls and Ceilings
If you're struggling to find ways of making your reception venue look presentable, cover up lumpy, scratched or stained walls and ceilings by using massed balloons. Run lengths of string along surfaces from top to bottom and tie balloons on to the full length until the whole walls covered, or buy a net to stretch across the wall or ceiling before filling it up with inflated balloons. If you've got a big venue and want to divide it up, folding screens or trellises covered in balloons make festive partitions.
Table Centrepieces
Forget flowers or candles - balloon centrepieces are cheap, striking and definitely won't get in the way of your dinner plates. Make your own by tying colour co-ordinated groups onto small weights, which can be purchased from specialist suppliers, or created by covering plastic bags of sand with material or flowers. Secure the balloons to the weight so they're floating at different heights, which gives them room to float upright and creates a more balanced effect than having them all bunched together.
Arches
As long as you keep the colour scheme muted, balloon arches look great in doorways, marquees or even as a wedding canopy! Pick the most expensive balloons you can afford - gold, silver, pearlescent or metallic colours will look best. Form a framework from gardening canes, then fasten the balloons on using Sellotape or ribbon.
Wall Decorations
If you don't feel the need to cover your walls completely, opt for evenly-spaced decorations along their length instead. Silk flower arrangements or candles on tall church-style stands don't need to be fixed to the walls, and can be moved around easily so you can judge the most effective position.
Don't assume wedding suppliers hold all the answers when it comes to decoration. Try party shops for themed wall hangings and door curtains, garden centres for lanterns and strings of lights, or even theatrical suppliers for appropriate props!
Remember, it's not the cost of decorations that determines their effectiveness, but the way in which they're used. For example, a single bead curtain or panel of metallic 'shimmer' strips looks a little lonely if used alone on a wall, but layering metallic and bead curtains produces an abundant, decadent effect that wouldn't look out of place in a Moroccan boudoir. Bulk-buy cheap decorations in co-ordinating colours and experiment with different textures.
Above all, if you've got the leeway to decorate a room as you wish, then make the most of it. Add different curtains, rugs and even a lick of paint to get the effect you're after. Don't forget to take a photograph for the owners when you're finished decorating before the big day - they'll be delighted to have such great publicity for the next interested parties that come their way.
You might also like...