Photograph Keyrings for the Evening Guests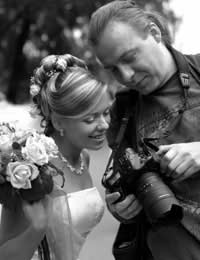 So you've chosen the gifts for your wedding party and the favours for the day guests are sorted - but what can you choose that will leave a long lasting memory of your happy day with the evening guests?
One thing you may consider doing, is asking your photographer if they have the facilities to be able to provide photograph keyrings. They may already offer this as part of the service, and if not, may be able to provide you with a quote for doing so. If they have the right equipment, they may be able to create the keyrings on the day, providing you with several options.
Option 1: Pre-Wedding Photograph
Some photographers will offer a pre-wedding service, where the couple will attend a shoot from which the best photographs can then be used for the wedding invitations or to publicise the celebrations. If you want to give your evening guests a photograph keyring, then consider booking a pre-wedding shoot and choose your favourite photo or photos from it. Your photographer can create the keyrings prior to the big day so that they are ready to be handed out to the guests when they arrive.
Option 2: Wedding Day Photograph
The trickiest one to pull off, this option works best if you have a gap between your afternoon sit-down meal and the time when your evening guests are due to arrive - as you will want your photographer to be present throughout most of the day. Alternatively, if your photographer has an assistant with them, then this can be quite easy to get right. Some photographers will already offer this as an option, so any extras they need should already be included in your quote.
For this option you will need to set a minimum of 15/20 minutes of your hectic day aside so that you can sit down with the photographer and look through the best shots of the day. You'll need to choose a photograph that you like and the photographer can then set about creating little photograph keyrings for the estimated number of evening guests. If you over-estimate, you can always send some to people who couldn't attend, or overseas relatives.
Option 3: Different Photographs for Different Guests
If you don't want everyone to have the same wedding-day photograph, then you can always choose different photographs that you think different guests will appreciate. Choose, for example, photographs that show the bride and groom presenting each bridesmaid with their thank you gift, or the mother of the bride accepting flowers from the happy couple, for their own, very personal keyring. This can take a lot of time though, and is best done after the day, with the keyrings sent out afterwards, maybe accompanying the thank you cards.
Alternatively, you can choose 4 or 5 photographs that you like the best - maybe a pre-wedding shot, a wedding day shot of the whole bridal party, the bride and groom with bridesmaids, the happy couple sharing a kiss or covered in confetti, and alternate them, so there are several different options for each guest. Then you can either leave them on the tables, or get the photographer to hand them out when the evening guests arrive.
Option 4: Photos of the Guests
Another option is for your photographer to capture guests as they arrive and the photographs made into a keyring afterwards. This makes a personal and pretty reminder of the wedding which the guests can either take home with them, or have sent out afterwards. If the bride and groom are meeting and greeting the guests, then they can be included in the photograph too. Do beware though that with this option, the bride and groom can't always be present - if one nips to the loo or gets whisked away to the dance floor then they may miss people arriving, so having the photographer capture everyone they arrive means that each guest can take away a memory of the event, whether or not the happy couple feature in the photo.
Sending Them Out Afterwards
If you want to reduce the pressure on your big day, then consider sorting out the keyrings after the wedding, and send them out along with the thank you notes. This gives you more time to look at the photographs and decide which ones you like, and can be a nice surprise for guests who thought they were just having their photograph taken for the wedding album!
MEMORABLE WEDDING IS FOR SALE.
This website is for sale [more info].
You might also like...
Before doing this, ask yourself how many of the guests would be likely to use the keyrings, especially if they have a picture of the bride and groom on them. Some close family members might, especially parents and grandparents, but most are more likely to put it in a drawer and forget about it. In other words, it's probably not the best use of your money, unless it really just is for those very close to you. Weddings are expensive enough without splashing out on something people will immediately forget - use the cash for something else!
amber
- 2-Jul-12 @ 11:53 AM