Organising the Honeymoon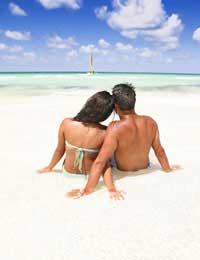 Nobody's quite sure about the origins of the term 'honeymoon', but a popular theory suggests it's derived from 'honey month' - the time after the wedding when the stresses of married life haven't begun to take their toll. Set yourselves up for the rest of your married life in style by ensuring the honeymoon period's a time when you can really enjoy yourselves - however you feel like doing so.
Picking a Destination
There's no rules that say a honeymoon holiday has to involve sun, sea, sand and very little else. From cultural exploration in the world's greatest cities to skydiving and bungee-jumping from the globe's highest spots, you can do anything you want - as long as you both want to do it.
Having said that, a wedding's one of the most stressful things you're ever likely to organise, so setting aside a bit of time for relaxation afterwards is no bad idea. Pick a super-luxurious hotel, find a historical hotspot with a great beach or simply spend a week of your allotted holiday time at home to give yourselves time to unwind after the big day.
Funding the Trip
While it makes sense to have the most spectacular holiday you can, it's unlikely you'll enjoy your top-notch surroundings to the full if you've only got enough cash left over for a sandwich at the airport. Make sure you've got the money for taxis if you feel like taking them, romantic meals in posh restaurants, must-do activities and impulse-buy souvenirs, or you'll end up bored and grumpy when you should be having the time of your lives.
If you think you're going to find yourselves short of cash, there are plenty of ways around the problem. Try booking the holiday (and, if necessary, your wedding) for an off-peak holiday season, or ask wedding guests for honeymoon donations instead of presents. As a last resort, consider putting off the trip until you've saved up enough for the holiday you want - it'll still be a special time for the two of you even if it's not directly after your wedding.
Organisation
Tradition dictates it's the groom's job to book the honeymoon while the bride deals with the particulars of the ceremony - which can be a good opportunity to turn it into a surprise for your new wife. Follow the above rules to select your destination, then give her tips on what clothes to pack and pick up some guide books she can read on the plane. If you do plan to keep her in the dark, you might want to avoid choosing a destination that involves getting complicated vaccinations or visas.
Book the honeymoon as soon as you've decided on a wedding date, which gives you a greater chance of getting exactly what you want. Don't forget to check your destination is compatible with your wedding date - that dream trip to India or Thailand could be a washout if you pick monsoon season, so if you've set your heart on a special place, plan your wedding around that rather than vice versa.
Remember the practicalities. Women will need to contact the Passport Office at least three months in advance of the departure date to ensure they can travel under their married name. If you plan to drive, make sure your licence covers you for your country of choice. Order a supply of currency and travellers' cheques a week before the wedding, and pick up your holiday essentials at the same time - no point wasting your hard-earned on overpriced airport goods. And don't, under any circumstances, forget to purchase travel insurance for your goods and money.
The Wedding Night
A lot of newlyweds now find it easier to stay until the end of the reception, then spend their first night in a hotel before departing on honeymoon. It's a good idea to look into the availability of rooms in your chosen place a good six months in advance to ensure they won't be full when you plan to stay there. Even if you can't afford the bridal suite, do let them know it's your honeymoon - you're more likely to get upgrades or freebies as newlywed guests.
The pause before your departure also gives you time to attend to last-minute details before you leave. Have somebody else check your travel documents, overnight bags and holiday suitcases into the hotel before you get there, so everything's ready for you when you arrive. Somebody also needs to pick up your wedding outfits and overnight things when you leave, so arrange to meet them when you check out and head straight off to the airport.
When You Get There
It might be the most expensive holiday you've ever gone on, but don't fall victim to the trap of thinking 'I must do as much as possible while I'm here to enjoy it.' The wedding preparations and emotion will have left you feeling tired, so if you feel like doing nothing, do just that. You'll feel more able to enjoy yourselves later on and prove better company for one another as a result.
If, sadly, your accommodation isn't the paradise you hoped for, then treat it like any other holiday and file a complaint. Be prepared to move hotels if necessary as well - you shouldn't have to keep quiet just because you booked it well in advance.
Above all, the honeymoon is not about enjoying the surroundings, activities or even the luxuries - it's about enjoying spending time with your new husband or wife. Do things that hold special significance for both of you by playing a favourite song, visiting a particular destination or even just sharing your favourite drink together in the hotel bar. If you take time to strengthen your relationship in this time together, your 'honey month' could go on for years.
You might also like...