Keeping Wedding Costs Down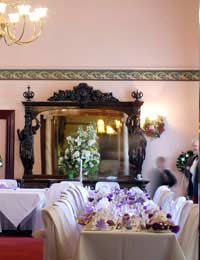 Now that the average UK wedding costs close to £20000 – about 80% of a typical employee's salary – it's no wonder many people are wondering how they're going to pay for everything. Cash-strapped brides and grooms should have no fear, however – there are plenty of tips and tricks you can use to stop the costs spiralling out of control. Follow these guidelines and you'll be able to have a big day on a very small budget.
Go Easy on the Guests
The bigger the wedding, the more money you're going to spend on it. Banish any feelings of guilt you may have and prune your guest list down to those you really want to have with you for the celebrations. Work colleagues, distant relatives and children of invitees are among groups you can target for removal.
Buy Second-Hand
How many times do you go into a shop and consider paying out a four-figure sum for something you'll only wear once? It's not a thought you'd normally entertain - so why should your wedding dress be any different? Check out auction site Ebay and specialist second-hand outfitters such as thedressmarket.net for bridal gowns, bridesmaids' attire, accessories and costumes for young attendants. Many are designer originals being sold off for a fraction of their original price, so you're bound to find something that looks great and that you can afford.
Use What You've Got
It's trickier for men to find second-hand gear, and hiring outfits for the entire wedding party can be very expensive. Instead, the groom and groomsmen should wear their own suits, and shop for accessories that will tie the whole look together – shirts, ties, cummerbunds, waistcoats or buttonholes. Young male attendants can also wear cheap, plain shirts and chinos, which, with the addition of a buttonhole, will look fine on the walk down the aisle.
Sale or Return
Asking caterers to provide drink, or hiring a mobile bar, are minefields of potential overspending – have you ordered enough drink? Will you be able to keep track of bottles drunk on the day? What happens if the bar runs dry? Buying your own booze on sale or return means you can order a huge quantity and take back anything that isn't drunk on the day. Cash and carries or supermarkets will provide you with wine, beer, spirits and minerals, and often offer glass hire services as well.
Share and Share Alike
For something that lasts such a short time, flowers can take up an awfully large part of your budget. Check with your ceremony and reception venue and find out whether any other couples are marrying on the same day, then contact them to see if they'd be prepared to split the cost of the floral decorations. It'll slash your budget in half and make some other bride and groom's day too!
Do It Yourself
If the Queen ever discovered how much it costs to put on a formal meal with food cooked by caterers, she'd never host another official banquet again. Opt for a cold buffet instead (hot meals require proper equipment and someone to serve them), and rope in friends and family to help you do the food. Check out catering websites to get ideas for delicious canapés, salads and desserts, as well as scouring recipe books for potential additions. Only choose food that can be made a couple of days in advance – you won't want to be messing about buttering bread and adding cream to puddings on the morning of your big day.
Get It on the Gift List
With so many couples now marrying after living together for a number of years, there's no need for traditional presents like white goods and garlic crushers any more. Instead, it's become acceptable to ask for wedding presents that WILL help you as newlyweds – including gift vouchers for your favourite shops or even travel vouchers so you can go on the honeymoon of your dreams. You'll find most people will be delighted to help you achieve that dream holiday in the Caribbean rather than pay out for something that's likely to end up shoved to the back of a kitchen drawer.
Where You Should Spend Your Money…
It's never worth going for a budget option that produces an inferior end product. Here are some of the places where it's a good idea to call in the professionals:
Photography and wedding videos – A seasoned wedding photographer or videographer will know which shots to take, the best way to set them up and how to remain unobtrusive while taking pictures. The end result is also less likely to be shaky, poorly focused or feature lots of pictures of the back of people's heads.
Entertainment – Changing your own CDs is a tedious task and is bound to lead to arguments among the guests, while simply sitting children down in front of a video is unlikely to hold their attention for the several hours you want it to. Professional childminders, DJs and bands will know how to give their audience what they want and keep them from getting bored.
Hair and make-up – OK, so you could do your make-up yourself and get a friend to put up your hair – but it's your special day. Trained beauticians know all about putting nervous people at ease as well as making them look gorgeous. When it's a choice between going out worried about the state of your eyeshadow, or turning up radiant and relaxed, it's no contest!
You might also like...