Wedding Insurance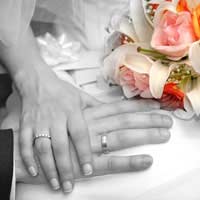 Many's the bride who's had a sleepless night over questions such as 'what if my wedding dress gets ruined before I walk down the aisle?' 'what if the caterers drop the cake?' and 'what if there's a thunderstorm just as we leave the church?' Taking out wedding insurance won't magic you up a new cake or stop it from pouring at the most inconvenient time, but it can provide you with financial and legal peace of mind on the big day. Here's a guide to what you can expect when purchasing a policy.
What Wedding Insurance Covers
Like any insurance policy, wedding insurance covers loss of or damage to goods associated with the event. Should anything befall your presents, rings, flowers, cake, transport, photographs or wedding video, you'll be able to claim back what you paid for them. It also includes your outfits - standard policies cover repairs, hire costs and replacement of ruined clothing.Insurance also means suppliers can't take money for services they haven't provided. If your caterers, photographer, entertainer, transport or florist doesn't show up on the day, insurance will allow you to claim back costs and any deposits you've paid for their services. This also applies to companies who go out of business, so if your venue or supplier suddenly shuts down a month before your date, you'll have the cash to find a new one.
In cases of sickness or injury, an insurance policy will pay out if the bride or groom are unable to attend the wedding. It also applies if any member of the bridal party has an ongoing serious condition that could result in the ceremony being cancelled (though not in cases of terminal illness). Public liability insurance - insurance covering accidents that befall people while you're hiring a public place - is also included in most policies.
'Unforeseen circumstances' is a pretty general description, but insurance will also cover you if you're forced to cancel for reasons beyond your control, such as extreme weather conditions.
What It Doesn't Cover
It may not be entirely within your control, but wedding insurers won't pay out if the bride or groom decides not to go ahead with the ceremony for personal reasons. Getting cold feet will mean you forfeit all monies paid - as will failing to declare anything you knew might affect the wedding before taking out the policy.
You may find you have to pay more if any part of your ceremony or reception is taking place outside. Insurers charge more to cover events in marquees, for example, so ensure you're properly covered for all parts of your big day. For those getting married abroad, you'll have to take out separate travel insurance, as wedding insurance won't cover travel and accommodation.
Clauses relating to clothing damage need checking carefully. Some policies only cover damage to the bride and bridesmaids' dresses, so it may be necessary for men to take out separate insurance with their hire company. There may also be restrictions on how much you can claim if the clothes are damaged during the wedding, as opposed to before.
Just because you've got insurance to protect your wedding goods and services doesn't mean you can afford not to take proper security measures. If you leave your dress in a place where it could be attacked by moths, or fail to lock a vehicle in which you've stored your presents, you won't be able to get your money back - so take care!
Buying Wedding Insurance
You need to get a policy as soon as you start making bookings with suppliers, so that all deals are covered in the run-up to the wedding as well as beforehand. Online insurers are both plentiful and easy to use, so it makes sense to shop around for the best quote you can find. Sit down beforehand and make sure you've worked out the costs you need to cover and any extras that you might need to pay for, such as insurance for a marquee.
Many insurers will expect claimants to pay an excess on any costs they attempt to recoup. This will usually rise the more money you are covered for, and will also be expensive in cases of marquee cover. Look for insurers who don't ask for an excess - it might mean their premiums are a little more expensive, but will probably still work out cheaper than any excess.Finally, buying your insurance doesn't end when you get your policy documents. Keep an eye on your costs as preparations move ahead and make sure your cover's still adequate for your needs. After all, it's difficult to put too high a price on the biggest day of your lives!
You might also like...