Saving for a Wedding and Honeymoon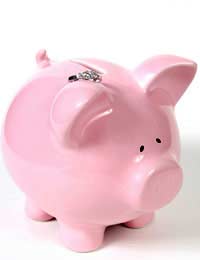 For anyone without access to an enormous bank balance paying for a wedding and all its associated costs requires a little careful money management. As soon as you've accepted the ring and thrown a party to celebrate, it's time to pull in your horns and begin the long hard financial road to 'I do'. Here's some advice on making the most of what you put away.
Start a Separate Fund
You can't truly start to save for your wedding unless you open up a designated wedding account. Adding money to an existing savings account each month is no good because you'll want that money for other things besides your wedding, and it'll be tricky to keep track of exactly how much has been set aside for the big day. You should open up your account as soon as you get engaged, to allow maximum time for the interest to accrue.
Get A Good Deal
The first thing to do is look for an account that promises a really high rate of interest. Many banks and building societies offer 10 per cent or more on savings accounts with regular monthly contributions, which will add up to a healthy amount over 12 or 18 months. For the slightly richer, some banks offer current accounts with upwards of 6 per cent interest as long as you're putting in a certain amount every month (usually at least £1000).
If you opt for a high-interest savings account, check how many withdrawals you're allowed to make over the course of a year. The higher the rate of interest, the fewer withdrawals you're usually permitted. Be careful to avoid accounts that don't allow any withdrawals in the first year, and look for one allowing between 1 and 3. This should let you pay deposits before the wedding, as well as bills when it's all over.
Do Your Sums
The first thing to do is work out a budget for your wedding. Split costs down into sections - clothing, food, drink, photography, floristry, honeymoon etc. - research your options and come up with a figure for each section. Add these together, then add an extra 10 per cent as a 'contingency' budget for unforeseen expenses. This is the magic number you'll have to arrive at by the date of your wedding.
Next, decide how much of your income can be put into the wedding account each month. Be as ruthless as you can - it's only going to be for a year and the more you can put away, the less cash you'll have to find later. Going without small weekly luxuries, giving up subscriptions, saving your loose change and setting a limit for supermarket shopping are all good ways to shave pounds off your outgoings every month.
Set up a standing order from your current accounts directly to the wedding fund, to be paid the same day your wages hit your bank account. This stops you forgetting to make payments to the fund or finding you've run out of money when it's time to do so.
Split the Bills Early
Your family and friends are bound to want to help out with the wedding, particularly if they know you're strapped for cash. If they offer to help out financially, the best way to avoid arguments is to give them a specific aspect to pay for, be it flowers, champagne, the cake or the entertainment.
Ask individuals how much they think they can afford, then allocate them an item in roughly the same budget bracket. Keep people in the loop about what they're paying for by showing them photos of the things you've chosen and letting them know when bills are going to be expected.
Bear in mind that it's unreasonable to expect donors to shell out more money just because the bill comes to more than you thought it would. Once you've agreed an amount with people, you'll have to pay any excess you spend over and above that amount.
Cash Alternatives
As well as putting money into an account, try building up a stash of vouchers that can be used to purchase goods in the run-up to your wedding. Visit department stores once a week to buy £10 worth of vouchers to spend on clothing, decorations or wedding services - in-store wedding advisors will be able to tell you what the vouchers can be used to redeem. Or why not buy weekly amounts of travel vouchers to put towards your honeymoon? You can also ask guests top help you build up your cache by giving vouchers as wedding presents.
Don't Overdo It
Remember that just because you're saving for your wedding doesn't mean you should be putting your life on hold. Living on bread and water for a year while you squirrel away every spare penny isn't going to make the planning enjoyable at all. Keep a small portion of your income aside and use it to treat yourselves, as a couple, every month. Whether the cash goes on a takeaway, a film or a night in a hotel, don't lose sight of the reason you're doing all this saving - to celebrate your life together.
You might also like...