Outdoor Weddings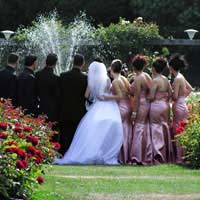 Saying your vows in a flower-filled garden, gazing tenderly at each other on a beach at sunset, admiring the view from a rooftop rockery…outdoor weddings have become the last word in romance since ceremonies began to move out of churches. Unfortunately, Mother Nature isn't as accommodating about her premises as the average licensee, and it takes careful organisation to make sure her plans don't interfere with yours. Stop your al fresco do becoming an al fiasco with these tips.
Outdoor Venues
Beaches around the world are popular venues for weddings, particularly in the Caribbean. A vast number of hotels offer tailored packages for the bride, groom and their families, which allow you to have a holiday before and after the ceremony while the staff deal with the preparations.
Stately homes often have wedding licences which cover both their interior and the gardens, and for those lucky enough to have attractive parks near their home, these can be a spacious and picturesque place to hold your ceremony. If you're sizing up a venue, ask whether their grounds are licensed and if you can be shown popular 'wedding spots' within them.
Wherever you pick, it's advisable to have a contingency venue planned in case the weather goes against you on the day. Check on the availability of function rooms at your chosen venue and ask whether their outdoor bookings provide for moving the ceremony in case of rain, wind or worse.
Summer vs. Winter
There's no need to think weddings should only be held outdoors in June, as long as you take proper precautions during colder months. It's advisable to put a warning on a winter invitation asking people to wear warm clothing, as they're unlikely to assume the event's an outdoor one. Provide screens around the seating to block wind, and keep everybody from freezing by renting patio heaters and providing lap blankets.
Summer weddings carry their own pitfalls, as people can suffer heat stroke or sunburn while sitting through a protracted ceremony. Bugs can be a problem in muggy climates, so consider citronella candles to keep the pesky critters from biting.
Consider shading the seating at the sides with an awning or parasols to protect the more fragile-skinned - jugs of iced water can also be placed under these to keep them cool. Inexpensive, battery-powered portable fans for each guest are a good idea, or save money by printing your wedding programme onto paper fans.
Dressing for the Conditions
It makes sense to avoid heavy velvets or brocades if you're planning to be a summer bride, but make sure the fabric you pick for your own gown and bridesmaids' dresses isn't so flimsy that the breeze will easily disarrange it. Try building in layers to the outfit so you can weather the outdoor and indoor climates easily - add a full-length, fur-trimmed coat over your long gown that can be removed in heated rooms, and wear a light wrap or bolero jacket to keep your shoulders cool in summer air-conditioning.
Shoes are a tricky proposition outdoors. If you're marrying on grass, avoid very high heels that could get stuck in the soil, while those planning a beach ceremony should dispense with shoes altogether and wed in bare feet (make sure your gown's the right length for you without shoes on, though).
Elaborate hairstyles will have difficulty withstanding windy conditions, so consult your hairdresser to ensure your coiffeure won't be ruined by the elements. Go as light as you can on the make-up in hot weather - avoid heavy eyeliner and blusher, swap foundation for tinted moisturiser or use fake tan to ensure your skin is glowing.
Decoration
Part of the joy of an outdoor wedding is that the natural beauty of the surroundings removes any need to spend a fortune on decoration, but it won't be much of a celebration if your chosen area's rubbish-strewn and overgrown. Visit a week before to make sure the grass is mown and litter's been removed, then send the ushers out to check all's well on the morning of the wedding.
Reception
Marquees are traditional if you're holding the dining and dancing out of doors. Make sure you know what size of marquee you'll need for the number of guests and ensure your chosen venue can fit it in - if not, consider renting a local function room. It's important that your tent's sturdy and well-anchored, particularly in winter when it'll need to withstand heavier rain and wind.
Public venues may have restrictions concerning rubbish collection, alcohol consumption or lighting lanterns. Discuss your plans with the council to ensure you won't be breaking any rules and make sure ushers, waiters and event organisers are aware of the limits.
Don't serve any food that won't stand up to the heat well. Avoid creamy dressings, iced desserts or anything that's likely to melt on you. Alcohol can dehydrate people quickly in hot weather, so ensure you've got a good supply of chilled water and soft drinks alongside the champagne.
You might also like...