Casual and Small Weddings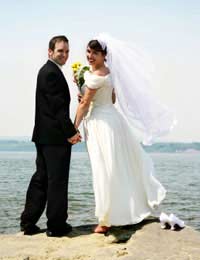 Remember Gwyneth Paltrow's wedding to Chris Martin? Or Demi Moore's bash when she tied the knot with Ashton Kutcher? Nope – and neither does anybody else because despite the fact that everyone wanted a piece of their big day, the bride and groom were determined to keep things low-key.
There's no relationship between the love a couple share and the size of their wedding, so you shouldn't feel bound to make an enormous splash. Whatever the reason you're planning a quiet ceremony – previous marriages, lack of funds, or simply the fact you're not big party people – see the occasion as an opportunity to break with tradition, rather than forcing yourself to scale things down.
Venue
In wedding planner terms, a 'small' wedding would be one with less than 50 guests. Any more and you're moving into the realms of commercial venues that are likely to get booked out quickly and cost a lot of money.
Take advantage of your short guest list to search for a venue that's got real character and charm. Boutique hotels, renowned restaurants, historic places of interest or function rooms at museums are often licensed for weddings and provide settings that are picturesque, stylish or quirky – whatever suits you best.
Getting married abroad is tricky for couples with a lot of people to invite, but can be an attractive option for a compact wedding. Visit travel agents and check out sun-soaked beach packages, romantic fairy-tale castles or breathtaking scenery – and treat your guests by offering to pay for the whole shebang.
Ceremony
Ever performed a dress rehearsal of a speech or play? Then you'll know how odd it can feel to be going through theatrical rituals without a decent audience. In the same way, saying formal vows in front of just a few guests can be uncomfortable.Instead, try to think of ways to involve the people you've invited in the ceremony itself. Seating them behind you isolates them from proceedings, so have them stand on either side or surround you in a circle as you say your vows.
A nice idea is to makes guests part of the decoration by giving them a flower or favour to hold during the service. If you're marrying in the sunshine, provide parasols or palm-leaf fans; if it's an evening service, hand out individual lanterns.
Reception
If you've only got a few guests, it's important to build a good atmosphere by making sure they all get a chance to meet each other. A sit-down meal is better than a buffet in this instance, as people will be forced to make conversation.
Keep things intimate and chatty by renting a private dining room in a hotel or restaurant, where you'll be afforded the privacy to chat in peace. Long tables, or large round ones, will seat more people and allow them to get acquainted faster.
Dispense with a formal cake-cutting ceremony and consider a croquembouche – a tower of profiteroles – or individual iced cakes for each guest instead. Alternatively, if you were forced to keep numbers down for budget reasons, order a large cake so you can give pieces to those you couldn't invite.
If you've just got family and a few friends in attendance, recollections from your dad about your childhood seem a little excessive. Don't bother with speeches - simply stand up to thank everyone for sharing the day with you.
Those getting married in the morning can mix things up by having a formal wedding breakfast instead of a dinner – go to town with full fry-ups, posh smoked salmon or Eggs Benedict, accompanied by champagne. For a really informal do, or if you'd rather not have a full-on wedding meal, rent a room for a champagne reception with cake and canapés.
A small wedding actually opens up far more opportunities than a large one – you can spend time with your guests, dictate the terms of the ceremony and lavish money on luxuries to make the day extra-special. After all there's a reason they say that good things come in small packages…
You might also like...