Spring and Summer Wedding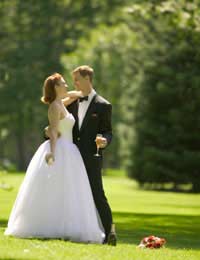 When most people think of a wedding they imagine the sun shining, bridesmaids in pastel finery and drinks on an endless expanse of green lawn. With beautiful weather and tradition on their side, its small wonder the months between April and August are the busiest in the wedding calendar.
If you, like so many others, choose to get married in the spring or summer, make sure you stand out from the hordes with these tips to make the most of the time of year.
Venue
There's really no excuse for not getting married outside during the sunniest months of the year. Pick a picturesque garden, lakeside or park and you'll save masses of money on decorations by surrounding yourself with natural beauty.
Spring weather can be darker and damper than summer, so consider lighting up your wedding pavilion with torches or lanterns. In summer, it's a good idea to get married in the afternoon or early evening, when the sunshine's at its height. Don't go for a sunset wedding though – you'll be waiting until 10pm to say 'I do'.
Dress
Go to town on silk, lace, chiffon or any other light, floaty fabrics you fancy for you and the bridesmaids. Heavy satin or velvet will look over-formal when it's light and bursting with life outside.
Your colour schemes should match the season as well. Spring's soft, verdant tones are best matched by pastels, but don't just opt for candy-floss pink - get your bridesmaids to agree on a shade they can all live with. If you really can't bear the idea of pastels, try greyer-toned, subtle shades like dusky pink, eau-de-Nil or sage green.
Stronger, primary colours are a good choice for summer. Don't go for very dark, rich hues – they'll be hot to wear and look overdone – while pastels can seem washed-out in very strong sunshine. Try scarlet, fuchsia pink, turquoise or even yellow to keep things fresh and attractive.
There's always a chance of winds or rain in spring, so if you're planning an outdoor ceremony, make sure you've got a cape or wrap that matches your dress to keep yourself warm. Matching umbrellas are also a must for ushers, bridesmaids and the happy couple, so processions and wedding lines can be conducted without everyone rushing to keep their hair/skirts/rented morning coats dry.
Extras
'Tis the season for flowers to bloom…so why not use what's available? Go for bluebells, hyacinths, irises, delphiniums or tulips while they're abundant in spring, while summer cries out for roses, daisies, cornflowers and anything bright or showy.
Leave roast meat and hearty fare off the menu – nobody wants to pig out on huge platefuls in the heat. Sit-down dinners should include a cold starter and dessert, preferably fruit-based to take advantage of whatever's in season. Fruits and vegetables can also be arranged in bowls for a decorative look on buffets, or as centrepieces for individual tables.
Don't coop your guests up in a sweaty disco once the meals over and the dancing's begun, either. Throw open the doors and propose a ceilidh under the stars, or if you got married by a lake, arrange a moonlit boat trip with champagne. It's all about enjoying your surroundings to the full.
Words of Warning
Venues and suppliers will often raise booking prices during popular months, so be prepared to splash the cash for a warm-weather wedding.
Arrange a contingency venue for the ceremony in case of really atrocious weather. See whether your chosen venue keeps a room aside for this sort of incident – if not, ask whether they can recommend somewhere.
Sunshine is all very well, but extreme heat's terribly uncomfortable on a formal occasion. Ensure you've got somewhere to place cold drinks during the ceremony, supply guests with fans and set up shady awnings so that everyone won't melt before the reception!
You might also like...