Civil Partnerships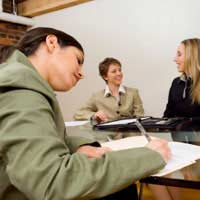 What is the Civil Partnership Act?
Since the Civil Partnership Act came into force in December 2005, same-sex couples have been allowed to form a legally recognised partnership and become 'civil partners', affording them similar legal rights to those as married couples.
What's the Point of Civil Partnerships?
In England and Wales there are more than 4 million couples co-habiting, and although co-habitees are legally protected in some areas, they are significantly worse off than those who are married or are civil partners.
Despite the widely held belief that once a couple have been living together for a number of years they become 'common law' husband and wife, more and more people are finding out to their cost that couples who simply live together have barely any rights comparable to those who are married or have formed civil partnerships.
Before civil partnerships came into force there was no way that a same-sex couple could enjoy similar legal recognition of their relationship in England and Wales. Neither could they have the same protection, benefits and responsibilities as married couples - but this all changed on 5 December 2005 when the Civil Partnership Act 2004 became a reality.
So in a nutshell, the Civil Partnership Act allows same-sex couples to be legally recognised as partners, and affords them equality to heterosexual married couples in terms of legal rights which cover a wide range of areas.
Which Legal Areas are we Talking About?
Essentially it covers the same areas of legality as marriage. Civil partners are treated as a married couple would be when it comes to issues such as:
pensions
child maintenance
state benefits
tax issues & inheritance tax
income-related benefits
tax credits
Immigration and nationality rules take marriage into account when assessing the right of someone to stay in the UK, and this recognition now extends to civil partners. They will also be recognised as official 'next of kin' when dealing with hospitals and insurance policies.
Domestic violence protection extends to them - as to any spouse, and in the event of a breakdown in the partnership, a non-birth mother/father would be allowed to apply for parental responsibility of their civil partner's child.
How do you Arrange a Civil Partnership?
Before a civil partnership can be formed, the couple involved must notify the registration authority of their intention to register a civil partnership. When the notice has been given, the authority will publicise it for 15 days, after which, the partnership can be formed at approved premises (including registry offices) in England and Wales.
Is it a Posh Name for Gay Marriage?
No, not really, although many of the couples involved do refer to them as such. However, there are similarities between husband and wife, and civil partners, in terms of the legal rights afforded to them and the way a record of the partnership is kept as a public document, in the same way as a wedding. Another similarity between the two is that notice must be given before either union can go ahead.
Technically though, there are some distinct differences. Because a civil partnership is formed when the second party puts their signature onto the partnership papers, it is not necessary to involve a public ceremony. In England and Wales a marriage is only valid when a couple speak their vows and sign the register together in front of witnesses.
It's also important to recognise that marriage is a word that is historically linked with religion, many of which do not allow same-sex couplings for their followers. Civil partnerships can only be conducted by a registrar whereas marriages can be conducted by clergy of the Church of England, without any need for civil preliminaries.
It's also likely that there are political reasons for not referring to civil partnerships as 'gay marriages'. However, many campaigners who put their support to the changes have gone on the record as saying that they are more interested in the legality issues that are affected by the new Act, rather than the terminology used.
What if the Partnership Breaks Down?
Part of the Act states that as well as legal rights, legal responsibilities must also be taken on board by civil partners. A civil partner will have duties in exactly the same way as any spouse would and will be expected to provide for any children involved. If the relationship breaks down the non-birth partner will be able to seek parental responsibility for the child.
If the partnership breaks down irreparably, the civil partners will need to dissolve their union through the courts, where outstanding issues will be addressed in much the same way as a divorce.
You might also like...