Guest Fashion Faux Pas at Weddings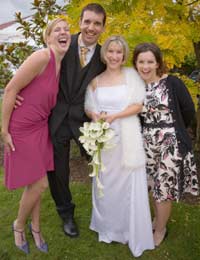 The most stressful decision any wedding guest has to make is deciding what they should wear: no one wants to look too casual, upstage the bride, or worse still, wear the same dress as another guest. Today's wedding fashion etiquette has certainly changed from the traditional train of thought, and contemporary trends (like women wearing trouser suits) are now considered the norm. However some rules still apply to avoid making a fashion faux pas on the big day:
Don't wear white
Many brides take offence at guests wearing white to their wedding. This is their special day and some feel white is their special colour. No bride wants to feel overshadowed as they're walking down the aisle, so any floor length white gown is definitely a fashion faux pas. If you have a simple white dress or white linen trouser suit that you'd really like to wear to an upcoming wedding, check with the bride before spending any more money on accessories: this is the best way of ensuring your ensemble won't cause any offence.
Think about the ceremony
The key to avoiding a wedding fashion faux pas is to think ahead, and dress appropriately. Many couples will get married within their religion, and so before you buy your outfit you should think about what their particular religion would perceive as appropriate dress. You don't want to show up at a wedding with bare shoulders or too much leg/cleavage if everyone else is wearing jackets or shawls over their shoulders and dresses that fall below their knees!
Be careful with black
It's perfectly acceptable to wear black to a wedding, particularly if it is a winter wedding. But it's important to remember that you are attending a celebration, not a funeral, so you should try to incorporate a colour into your black ensemble: a black dress teamed with a fuchsia or lime green fascinator and matching heels will look chic and stylish. Another simple way to brighten up a black outfit is with bright jewellery, some bright bangles or nice sparkly earrings would work perfectly.
Pay attention to the invitation!
A common wedding outfit faux pas is not checking the invitation dress code! For a black tie dress code an evening gown or cocktail dress is expected. White tie calls for your fanciest ball gown. For a smart dress code a daytime summer dress or a smart skirt and top would be your safest option. If there is no dress code on the invitation, a colourful summer dress is usually a failsafe wedding outfit solution. Or if you know the couple to be snappy dressers then it is likely that the dress code will be a little smarter than most weddings. Think about their tastes.
And for the boys…
Unless the invitation specifically requests an alternative dress code, men should wear a suit and tie for a wedding. If you are attending a casual or beach wedding you can lose the tie and jacket, but you should always wear formal trousers and a button up shirt to any wedding. Fashion faux pas for boys are wearing jeans or sandals: these are never appropriate wedding attire, unless specifically requested by the bride and groom!
MEMORABLE WEDDING IS FOR SALE.
This website is for sale [more info].
You might also like...