Planning an Eco Wedding
By: Fiona Courtenay Thompson BA (Hons) - Updated: 6 Dec 2011
|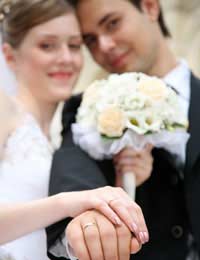 A low carbon-footprint wedding is a great start to married life. It can be tough to stick to principles in the face of the pressure to have a celebrity-style wedding, but looking back in time might be the key. Old fashioned could be the new modern for a 21st-Century eco wedding.
Planning an eco wedding is easier if everyone is on board. Tell family and friends so that they can all focus on making the day as green and ethical as possible. Use their ideas too – they are bound to have some good ones.
Something Old
For old read second hand and recycled. As the rhyme says, it is traditional to wear something old when getting married and why not make it the dress. Second-hand wedding dresses can be found on ebay and in charity shops – Oxfam even have specialist wedding shops now. Vintage is a smart way of saying second hand, and there are some fabulous dresses to be found by shopping around in vintage clothes shops and websites. Looking in mother's or grandmother's wardrobe may unearth some real treasures that may need only a little alteration to be a perfect fit.
When it comes to make up and hair the women of the war years had some great eco tips. Beetroot juice stains lips and cheeks a delicate pink and talcum powder makes great face powder. Dig out all the palettes of eye shadow from your make-up bag that are nearly finished, scrape out the left over bits, grind them up and mix new colours. The same can be done with those stubby bits of leftover lipstick.
Rags wound into hair the night before can give soft curls or tight ringlets. Comb through sugar water or egg white before putting the rags in and the curls will hold all day. Put some sugar water in a hand-spray bottle and spritz it over a hairstyle and it will stay in place without that nasty chemical pong. Do make sure any experimenting with make up and hair is done before the big day, though.
Invitations can be made with recycled paper and card. Decorating them with the best bits from recycled greetings cards can be very effective, or ask an artist friend to paint a picture for the invitation.
Old plant pots can be painted in wedding theme colours and planted up with flowers to decorate the ceremony and reception venues.
If you want linen on the tables dig around in charity shops for tablecloths and serviettes, or try mother and grandmother again. It doesn't matter if the linen doesn't match; a mixture of patterns and fabrics can look wonderful in candlelight. Don't forget to use ethical and eco-friendly candles, though.
Something New
How wonderful to provide wedding guests with fabulously fresh, locally-grown food. Even better if it has been grown by the bride and groom with the help of their friends. For the stag and hen night, why not get everyone together to plant up an allotment full of vegetables for the big day. Plan for the season and organise the menu around it. After a days work, green-fingered friends can be rewarded with a comforting meal and a drink around a roaring fire, or in the garden on a summer's evening. This will all need a bit of forward planning, but it will be well worth it. Use local suppliers for all the stuff that can't be grown by the stag and hen team.
If you're going for new Wedding rings, go for ethically sourced gemstones and metals. You can find ethical jewellers and metal smiths online. Alternatively you could search the antique or vintage stores for wedding rings that have a bit of history to them. You can find some great unique pieces, it just takes a bit of time and effort.
Something Borrowed
This is a great one! Instead of a present list, ask to borrow your friends' skills – but make sure to pay for the materials. Find a group of friends who can cook and ask them to do the buffet. See if a string quartet can be mustered up, or re-form that rock band from the sixth form. Acoustic is more eco-friendly than electronic so it may have to be unplugged.
Almost every guest will bring a camera so ask them all to email their favourite two photographs from the day. Consider asking that artistic friend to paint quick little sketches throughout the day and perhaps to do an informal portrait of the bride and groom.
For guests who can't offer skills or who really want to give a present, suggest that they donate to a chosen eco charity or ask that whatever they give is made locally to them – a local potter, say, or wood turner. A little imagination and awareness of how to tread lightly on the earth is all that is required for the perfect eco-wedding present.
Using glass, china and metal cutlery for the reception means no need for expensive and wasteful plastic cups and paper plates, and breakages can be recycled. Borrow glasses, crockery and cutlery from family and friends or hire them from a local supplier.
Something Blue (or is that Green?)
The ideal green solution to the transport problem is to have both wedding and reception in the same place and local to home. The bride can then walk to the wedding with her entourage in tow – like the wonderful wedding photos from the 1930s and 1940s with the bride on her father's arm in all her splendour walking down the high street. Of course, this may not be possible, so how about cycling? Hire sit up and beg bikes that can accommodate a wedding dress. Or use public transport and create a real stir. If the guests need to travel from the ceremony to the reception, get bikes for all of them (what a wonderful sight that would be) or hire a double decker bus – it uses fuel, but less than if every guest drove themselves.
Eco-wedding Success
Imagine the satisfaction of looking at the wedding photographs (or paintings) in 20 years time, perhaps showing them to the children, knowing that the day was planned with the planet in mind. Surely that is incentive enough to stick to principles and plan an eco wedding.
MEMORABLE WEDDING IS FOR SALE.
This website is for sale [more info].
You might also like...