Wedding Scrapbooks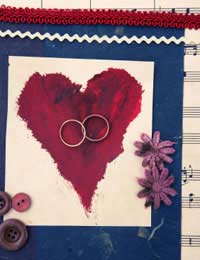 Photograph albums and guestbooks are invaluable ways to capture memories of your wedding but they won't give you the full picture of what happened before, during or after the big day. A scrapbook does just that - collects all the little 'scraps' of information you'll struggle to remember as the years go by. Read on for tips on how to create an invaluable work of reference that'll stand you in good stead when you're desperate to remember the name of that wine you drank at the reception, or what order the hymns were in on your service sheet...
What to Include
Begin by setting yourself some guidelines about the timeline the scrapbook should cover. Do you want to include pictures and memorabilia from the early stages of your relationship, your engagement party, or the honeymoon as well as those of your wedding?
Be ready to collect as many items as possible on the day, so you're not left grubbing around for things you can use after everything's been cleared away. Add labels to several large transparent plastic bags and put in items from each section of the day as you collect them. This will help when it's time to group things on the pages of your scrapbook.
If you're planning to begin with mementoes from before your wedding day, suggestions include; a copy of the invitation to your engagement party; pictures of you choosing the ring(s); wedding to-do lists; or photographs of the stag and hen nights. Use promotional brochures to get shots of your wedding and reception venues, as well as of your hotel suite if you're staying the night before going off on honeymoon.
On the day, start picking up items as the bride and bridesmaids get ready. Get fabric swatches of everyone's dresses, pictures of jewellery, and petals or small flowers from bouquets (these can be pressed and stuck in later). A copy of the service sheet at the church is a must, as well as copies of your wedding vows if you've made up your own.
The reception offers a wealth of material for the book, so grab table decorations, place cards, wine labels, wrapping from presents, menus and party favours as soon as you can. You can even beg speech cards from the father of the bride and best man once they've finished using them!
Don't forget to leave space for items from your honeymoon. Use travel brochures to get pictures of your destination, grab flowers and leaves from local plants for a reminder of the atmosphere, and save your plane tickets and any tourist guides you pick up while sightseeing.
The Book
The book you buy should be designed for the purpose it's intended for - no thin-leaved exercise books or cheap notebooks here please! Remember you're creating something which you, your children and grandchildren should take pleasure in viewing, and select a well-made, attractively covered book that'll do your memories justice.
Pick a book with pages big enough for you to paste in menu cards, service sheets etc. without folding or tearing them. The pages also need to be thick so you can glue items on to both sides without wrecking the paper. Books with handmade rag paper pages are a good bet, as they're both weighty and gorgeous to look at.
When it comes to laying out the pages, use your bags to help you group items together. Go for a 'collage'-style layout that'll draw the viewer in and create an attractive overall look, rather than sticking things in with uniform regularity as if they were museum exhibits. You can jazz up your displays with craft materials or pre-cut scrapbook shapes. Specialist sites on the Internet will be able to supply these, as well as being a source of handy tips on page layout.
Getting Help
Tell your friends you're making a wedding scrapbook and they'll be delighted to help you find oddments to include among the pages. Entrust a couple of people with taking Polaroid shots of the action so you can scatter these 'action shots' among your collected scraps.
If you're already planning to put disposable cameras on each table, consider using the pictures from these in your scrapbook instead of creating a separate album. Or leave pieces of paper and pens on each table for guests to record messages that can be added to the collection.
Alternatives
Combine your collected items with your guests' memories by sticking them into your wedding guestbook. Provide tables with pens, pencils, felt-tips and markers to encourage creative writing and drawing, as well as a couple of tubes of glue so guests can stick in items they feel sum up their experiences of the wedding day.
Finally, if you're proficient with a video camera, why not make a 'video scrapbook' of people's memories from the day? Have a competent cameraman rove among guests asking them for messages, jokes and reflections, and combine these with shots of the important moments of the day for a truly unique record of your wedding.
You might also like...