Digital or Print Wedding Photographs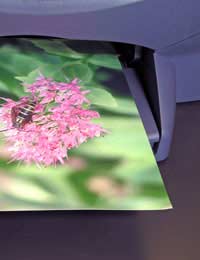 With advances in technology there isn't always the need to get photographs printed by your photographer, it is likely that you have a printer at home or have access to a photo printing machine somewhere like boots. However, is it worth the hassle of printing your own photos from disc just to save a bit of extra money?
Wedding Packages
Most photographers provide an album, some prints and DVD of images after your wedding, depending on how many prints you want, how many album pages you want and various other factors, the price may go up or down. Photographers know the best places to get beautiful albums and prints from, after all they are the experts, however, this expertise does come at a price, and like with everything when it comes to having wedding photos done, quite a large price. Some photographers now are offering digital only packages which mean no albums or prints just a DVD of images for you to do what you wish with.
Prints and Albums
Prints and albums are something you can keep in your home and in your family for years to come; you are more likely to treasure an album than you are going to treasure a disc or hard drive where the pictures are kept. It is nice to have a physical copy of your wedding's photographs, they can be on display in your home for everyone to look at, and something that will bring a smile to your face every time you walk past.
Digital Packages
A digital package implies that the photographer will take your pictures, do a bit of editing then give you all the images on a DVD for you to keep. From here you can keep the disc, put the images on your computer, make copies for friends and family and you can also print your own pictures. If you are looking to put together your own album then there are various sites out there where you can do this, or of course you can get the pictures printed individually and slide them into a traditional photo album.
Could Digital Only Save Money?
You will save money by going digital only probably a couple of hundred pounds depending on who you go to, however, this money that you are saving you will probably be spent on printing off your own pictures and creating your own album. If you go with the right digital package then you might be able to save yourself some money even after printing off everything you need to. However, you need to think about whether after your honeymoon you will want to be sorting out pictures when most photographers will have the images ready for you by the time you return.
Check for Copyright
When going for a digital package confirm with the photographer that you have the right to print off the photographs from the DVD. Some will have you sign a copyright waiver, others will allow you to do what you want and others will not want you to print the photos yourself. Just make sure that you know where you stand with your photographer before making any bookings.
Whether you choose digital or print depends on the packages your preferred photographer offers and whether you have the knowledge and/or equipment to get your images printed yourself.
You might also like...