Bridal Hair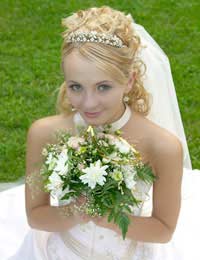 A wedding's the only time a bride will ever be able to indulge in full-on excess in her outfit. Just as your gown can have a six-foot train, thousands of hand-sewn beads and enough material in the skirt to double as the marquee, your hairstyle should be the fantasy 'do you've always wanted. Follow these steps to decide whether you should opt for curls over flowing tresses or flowers instead of sparkling jewels.
Consider Your Features
If you've ever been for a new haircut hopefully clutching a celebrity picture and come out disappointed with the results, you'll know that some styles just don't suit everybody. Take a look at your face, neck and hair type before deciding what kind of do will look best.
A traditional style where the hair's swept up on the top of the head is good for those with shorter necks and round or square faces, as it gives the illusion of greater height. If you're after curls for your big day, long spiral ringlets created with tongs will be better than round, rollered efforts that echo your jawline's shape. Try to keep some hair framing the sides of your face - it'll slim your cheeks and look far more graceful.
Tall up-dos will make long faces look even longer, so you're better off knotting hair low on the neck or creating a style with volume at the sides to balance out the length. Don't consider any styles where long hair is worn down, and go for round curls rather than long ringlets that will emphasise your face shape.
Brides with long, slender necks should show it off with an up-do. Try a classic chignon with ornaments to add interest, or roll hair round a doughnut ring - a look that can be as sleek or messy as you'd like.
Fine hair doesn't hold curls or accessories well, so go for complicated braids that sit close to the scalp - French braids down the back of the head or across the hairline look sophisticated. Very thick hair will be difficult to curl evenly - consider sweeping most of the hair back before curling the front section instead.
Make Sure Your Hair Suits Your Outfit
It's clear you need to choose a style that fits in with the type of dress you've picked. If you're usually an ultra-modern dresser, but have gone for a romantic full-skirted extravaganza of a gown, you'll need to make sure your up-to-the-minute hair's softened by adding curls, waves or braiding. By contrast, too much old-fashioned frippery will look very silly with a sleek contemporary gown.
Wearing a veil? Ensure your up-do won't get in the way of fastenings or be ruined by the weight of the material. For shorter veils, consider one that pins in underneath your swept-up hair so as not to disarrange the style, while heavier floor-length numbers will need a robust do to withstand the pressure of the cloth. Accessories need to be kept to a minimum under a long veil - use combs and long pins rather than grips or flimsier fastenings.
Matching accessories are a good way of tying the whole look together. Flowers that match the ones in your bouquet can look traditional or cutting-edge depending on your choice of bloom. Sparkly diamante or crystal clips and combs add glamour, so make sure they're in a prominent place. Why not try tiny crystal beads strung on to thin thread and pinned in among your own hair for an all-over glitter?
Consulting a Hairdresser
If you're not quite sure what kind of style would suit you, getting inspiration from a hairdresser's a good idea. They'll have style books you can look through to get a feel for what's possible, as well as providing expert advice on what styles will work with your hair, face and chosen dress.
A trial run of your chosen hairstyle before the wedding is vital, as it will give you an idea of how long it takes and where accessories should be placed. Book an appointment once your veil's ready and take it along to the salon with your ornaments, so you'll know exactly how the finished product looks. If your hair needs to grow longer for the desired effect, book another trial closer to the event.
On the Day
Hair that hasn't been freshly washed will hold a style much better. Do not shampoo or condition your hair before the stylist's arrival - and don't, under any circumstances, choose that morning to colour it either!
Wear zip-up or button-though tops to get ready - anything that can be removed without disarranging your hairstyle. Don't forget to tell your bridesmaids they should do the same if they're having their hair done as well.
Whatever style you choose, ensure you've not sacrificed comfort for elegance. You'll be stuck with this do all day, and once the photographs are over you'll be hugging, drinking and dancing with it on your head. So if it hurts to stand up straight or you can't move your head, ditch the look. Why suffer to be beautiful when you're already the centre of attention?
You might also like...