Renting or Buying Attire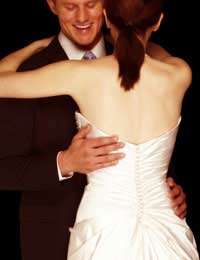 By the time you've accounted for suiting and booting the groom and his ushers getting outfits for the young attendants and got the bridesmaids to agree on a design they can all live with, the bill for your wedding clothing could be running into several figures - and that's before the bride's dress! Renting can seem like a much more sensible option if you're on a budget, but there'll be hidden costs that are likely to push the final figure up. So which is the best option for you?
Renting vs. Buying - The Women
It may be cheaper in the short term, but think carefully before you decide to rent your wedding-day gear. Begin by considering the size of your wedding party. If you've got a large number of bridesmaids to consider, it could be hard to hire similar outfits for them all. Also, some of your party may be tricky to dress - those at the upper or lower end of the sizing chart can have trouble finding suitable rented wear.
Don't forget you'll almost certainly have to buy some aspects of your wedding attire - underwear and shoes, for example, tend to fit better if bought for a specific person. Make sure there's provision for these items, as well as a limited amount of jewellery and matching accessories such as gloves or bags, in the budget.
When it comes to the bride's outfit, however, buying's a different story. A bespoke gown fully fitted by a dressmaker can leave you with a four-figure bill - and all for a dress you'll probably only wear once. While it's nice to be able to hang on to your dress for sentimental reasons, budget brides would do well to consider renting.
However, if you're dying to hang on to the dress afterwards, consider the huge number of second-hand dresses available. With so many online stores and auction sites to buy from, more and more people are putting their wedding clobber up for sale after they've used it. You'll find plenty of the very latest styles on offer, often at hugely reduced prices.
Check out sites for a massive selection of wedding dresses in every shape, size and colour. You can also find jewellery, accessories and even bridesmaids' dresses here - although such sites are a bit of a lottery if you're trying to find matching outfits for more than one person.
Renting vs. Buying - The Men
Unlike women, who've traditionally spent thousands on purchasing their gowns, renting menswear is a traditionally accepted convention for acquiring formal outfits. If you're planning on a formal do, get your groomsmen together and head for a hire shop to see what's on offer in the way of tailcoats, morning dress or dinner jackets. Bear in mind, however, that renting these garments is expensive and will include insurance for loss and damage - things you can never be sure about at a wedding!If you're strapped for cash, it's probably better to consider going with less traditional attire. Not only are suits much cheaper to get hold of and more comfortable to wear, you can ask groomsmen to buy their own shirts and ties to save money.
Don't forget about your accessories either. Unless you're going for a ceremonial look that requires special footwear, you probably won't want to rent shoes. Consider also spending money on ties, cufflinks, handkerchiefs and cummerbunds to tie the groomsmen's look together.
If you're still unsure whether a bought dress or a rented item is the right choice for you, ask yourself the vital shopping questions. Can I afford it? Is it exactly what I want? And am I likely to wear it more than once? If you can answer an immediate yes to all three, whip your wallet out straight away, but if you're unsure about any one, search the rental racks for inspiration.
And finally, whether you choose to buy 'new' or rent 'old' and 'borrowed', don't forget to wear something blue!
You might also like...