Gifts For Attendants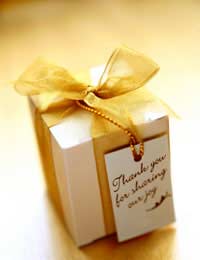 Your bridesmaids have put up with numerous dress fittings, endless smiling for photographs outside the church and the lecherous looks of every drunken reveller at the reception. The ushers have supported the groom through his stag night, directed all the guests to seats in the church and howled with laughter at even the weakest of the best man's jokes. It's natural you'd want to give them something as a thank you - but what to pick?
Before You Buy
Make sure you set a realistic budget before you start thinking about what sort of gifts to buy. If you're having a small ceremony with just a best man and a bridal attendant, then you can push the boat out for them, but a church wedding with all the trimmings including at least four bridesmaids and ushers apiece may mean you'll have to be a bit more circumspect with your gifts.
It's also important to consider the ages of your attendants - for example, you may have asked young children to be flower girls or page boys, and getting them a decanter or commemorative tankard simply isn't appropriate. Don't set aside your personal taste, either, as a well-thought-out gift that's special to you will mean a lot more than generic silver goods or jewellery.
What to Consider
Jewellery is a good choice because it's attractive, practical, lasting and appropriate for all ages. Plain, stone-free chains, pendants or bracelets are your best bet - earrings can be tricky if women don't have pierced lobes. Cufflinks are a pleasingly formal gift for men, while watches can be a good choice for both sexes if you've got the cash.
For a really personal touch, consider talking to a jeweller to have bespoke pieces made. This needn't cost the earth if you're not using stones, and means you can include designs or inscriptions that will be an enduring reminder of the day. Engraved goods bearing names, dates and messages are another way of making your present more personal, so consider adding your chosen words to silver compacts, hairbrushes, cigarette cases and the like.
A wedding's the ultimate chance to be girlie, so offering your bridesmaids pampering products is a great way of marking the occasion. Manicure and pedicure sets, high-end bath and shower products or even spa vouchers allow them to indulge themselves almost as much as the bride when it comes to grooming.
One thing that tends to unite every man is alcohol, so drink-related gifts are likely to go down well with men. Hip flasks or tankards serve a practical purpose, can be engraved, and are usually of great benefit during the festivities - particularly if it's a cold day.
If you're looking for something a bit more generic for those relatives you don't know all that well, try something that's got great display value as well as being practical. Pens or photo frames might be everyday items, but a really elegant version will be a reminder of the big day every time they look at it.
What Not To Consider
Don't buy everybody the same gift - weddings are one of the few times when you should make a point of marking a difference between the sexes. Plus, buying a job lot of one present makes you look cheap and lacking in imagination.
Try to stay up-to-date. Handkerchiefs were once a very acceptable gift for attendants, but how many people do you see using a handkerchief today? Bear in mind, though, that there's a difference between classic and outdated - just because men rarely drink from tankards today doesn't mean they aren't great display items.
Giving money as gifts is generally frowned on at weddings, because people like to know what their hard-earned cash is going to be spent on. If you're really stuck for ideas, rather than showing your lack of inspiration by handing out cash, consider vouchers for gift experiences like spa days, driving classic cars or show tickets - something a bit more exciting than a book or CD token.
Finally, however much they claim not to want presents, don't try thinking you can get away without giving your attendants a token of your appreciation. These people are almost as involved in your wedding day as you are, so it's only right that you make a public gesture to show how much their support's meant to you - and anyway, you might want an invitation to their weddings in the future…
You might also like...