Mother of The Bride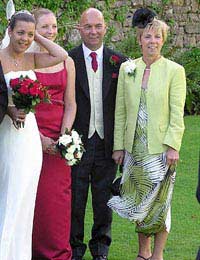 You've opened the champagne and celebrated your daughter's engagement but the reality of planning outfits and keeping the bride-to-be sane is just starting to sink in. If you feel like you've got everything to do and no idea where to start, take a look at this list of advice on how to dress and where to get involved – as well as when to keep your nose out!
Part of the Planning?
Historically, the bride's parents hosted the wedding and held sway over the guest list, invitations and such vital aspects as catering and photography. Nowadays, the bride and groom usually prefer to make such major decisions themselves, but it's only natural that the mother of the bride will want to play a part in the preparations.
Establishing ground rules early on will avoid accusations of interfering later. Sit your daughter and future son-in-law down and explain you'd like to help them with the wedding plans if they'd appreciate it. If their response is favourable, talk about the areas where you'll be of most help and possible tasks you can get on with.
It's possible the bride will declare she wants to do all the planning herself. Try not to show you're upset – it is her wedding and she's got a right to do what she wants, so back down gracefully. Of course, there's every chance that she'll come running to you desperate for some assistance once she realises the size of the task she's taken on…
Traditional Duties – and More Modern Ones
The mother of the bride's traditional tasks included everything from choosing the flowers to organising the reception. Though many of these might now be taken out of her hands, her role is still essentially one of hostess – she's responsible for knowing who's going to turn up, what relation they are to the happy couple and where they'll be sitting at dinner.
To acquire such in-depth knowledge of your guests, you'll need to help compile the guest list, send out the invitations and create a seating plan. Careful management's needed to ensure the budget isn't blown, so work with your daughter to keep the numbers of guests realistic - don't invite third cousins or distant aunts if the bride hasn't seen them since she was a baby.
You'll need to order invitations at least six months in advance of the wedding date so you've got time to send them out and collect RSVPs. Check the style, wording and spelling of invitations with the bride and groom before you place an order – wrongly spelt names can prove very embarrassing when you meet your opposite numbers on the big day.
Seating plans for sit-down dinners can be very tricky – many people won't know a lot of the other guests and those that do might not get on. Try to mix strangers in with couples who already know one another so there aren't any awkward silences. Ask the bride and groom if there's anyone who should definitely be kept apart and take their advice as far as you can.
Thousands of other duties may fall to you as the months roll on, but don't forget to enjoy the perks of the position as well as the pitfalls. Make sure you're invited along to a dress fitting, help out with menu tastings and – if it's going to be your sort of occasion – invite yourself along on the hen night too!
The Second Most Important Outfit of the Day
Whatever your personal style, the mother of the bride's wedding clobber needs to meet certain criteria. It should be striking and sophisticated, totally comfortable for running around seeing to last-minute jobs, and definitely avoid clashing with whatever the groom's mothers picked out.
Be careful about the colours you choose. White and cream are obviously the preserve of the bride, pastel suits can make you look like the Queen and beige or grey are too dull for words. Spring and summer cry out for floral designs or subtle colours such as dusky pink or sage green, while autumn and winter weddings demand dramatic shades of deep red, blue, green or purple.
Accessories should be practical. Shoes shouldn't be outrageously high-heeled, as you're likely to spend a lot of time on your feet, and take a co-ordinating bag for your camera, tissues, copies of guest lists et cetera. Hats are no longer de rigueur at weddings, and can be cumbersome for the busy MOB, so opt for a firmly anchored hair accessory as a stylish alternative.It's helpful to co-ordinate with the general colour scheme, so check with your daughter to see what the bridesmaids are wearing. A quick call to the groom's mother can also save the embarrassment of the pair of you turning up in hideously mismatched outfits – or worse, the same thing.
On the Day
The day of the wedding is a tricky balance between fulfilling your duties in public and finding time to be with your daughter in private. You'll only need to be in the church a few minutes before the bride arrives, so spend plenty of time with her while she's dressing for the occasion.
Once you're at the church, you'll become public property. After the line-up (when all the guests will have met you and know who you are), circulate at dinner and during the reception to make sure everyone's having a good time. Keep calm in the face of any hiccups – the guests will feel more relaxed if you appear serene and happy.
Snatch a couple of minutes to say your private goodbyes to the new Mr. and Mrs. before they leave for the honeymoon. After they've gone, you'll probably be responsible for tying up loose ends, so be aware of what needs doing and enlist willing volunteers to help you pick up wedding outfits from hotels, return keys to their rightful owners and count up the empty wine bottles.
Above all, try to ensure your responsibilities don't get in the way of you having a thoroughly good time. It isn't every day that your child gets married, so drink in the atmosphere, admire the guests' outfits and find time to sit down with a relaxing glass of champagne – or six!
You might also like...