Alternatives to Wedding Gift Lists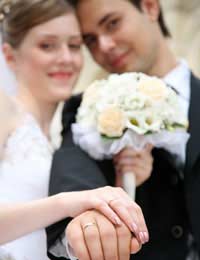 If you've been living with your partner for a long time, chances are that a traditional gift list comprising of pots, pans, and plates isn't going to work for you. Unless you eat out every night, you probably have all the utensils you need to rustle up a simple meal! But your guests and loved ones are bound to want to buy you a gift in celebration of your marriage. So what are the other options?
Honeymoon gift list
If the expense of paying for your dream wedding has left you struggling to have your dream honeymoon then a honeymoon gift list could work wonderfully for you. A honeymoon gift list allows you to transform an inexpensive holiday into the trip of a lifetime. Guests can pay for all the optional extras that make a magical holiday unforgettable: day trips, flight upgrades, waterfront meals, champagne in your hotel room when you arrive. Guests can even buy you pampering sessions in your hotel spa! This is a great alternative to a traditional gift list, because your guests can still feel that they are contributing to something you really want and need, knowing that the money they have added to the list has gone towards something tangible.
Charity gift list
If you're lucky enough to be in a position that you don't need any household items or support with your honeymoon, you may choose to use your wedding and your celebration to do something for one of your favourite charities. A charity gift list is a great way of avoiding unwanted gifts on your big day, and turning your wedding day into a special occasion for more people than just your guests. With a charity gift list you can choose from a variety of gifts which can benefit a number of charities, so your guests can make donations that change lives.
A support gift list
If you're having a wedding on a budget, and would like your guests to be hands on, helping with things like setting up, making cookies, or doing the photography, then why not set up your own support gift list? Write a long list of jobs that need doing for your big day to run smoothly (from hanging the bunting to doing the brides make up) and have your guests pledge to help you with one of the jobs as their gift to you. This idea is a wonderful one, because not only are you getting the gift of support, you're also getting the more precious gift of time from your loved ones in the days leading up to the big event.
Gift experiences
Gift experiences are a perfect wedding gifts, allowing you and your partner to spend quality time together during the early months of your marriage. Put together a list of experiences you'd love to have, and your guests can buy you gift certificates towards them. A gift voucher for dinner at your favourite Italian restaurant, passes for national parks or museums, pre-paid lessons for snowboarding or skiing, or those sushi cooking classes you always wanted to try are some great ideas that might appeal to you.
You might also like...